Great Investment Property
999 Blue Bird Ave : Thomasville, GA 31792
Thomas County, Georgia
Expired Listing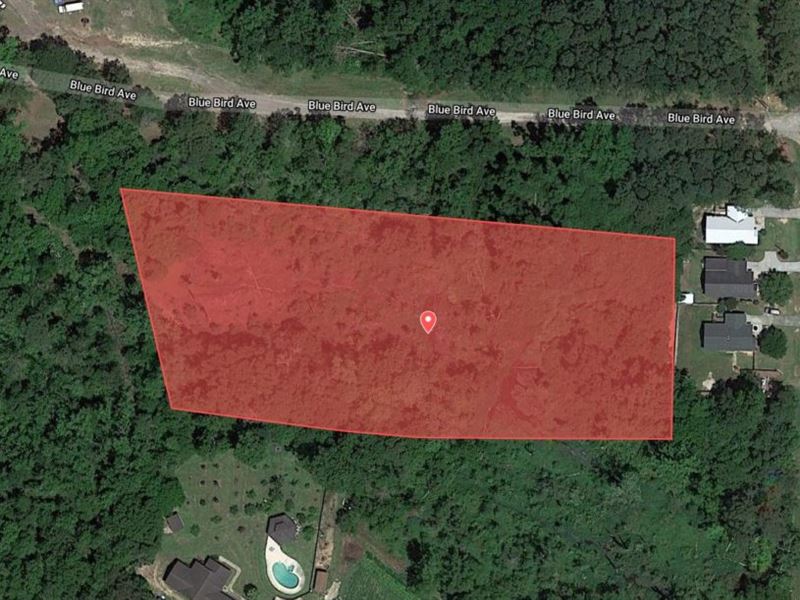 Land Description
About The Property

This property is located in Thomasville in the Red Hills Region in the southwest part of Georgia. Dubbed as a winter vacation destination due to its warm temperatures, and pine-scented air, this town is known as the "City of Roses". The property is 3.37 acres and is optimal for investment since it's right where the action is happening. Please note, as it is, you can't use the property until you've built a driveway or applied for an easement to gain legal access to the property. If you're willing to invest a bit of effort into making it happen then you've got a goldmine in your hands. Appreciation rates since 2000 have gone up 74.18% (ending value as of Q4 2020). Just a couple of miles away to downtown Thomasville, imagine having a property within a city that is considered a top destination for golfing, fishing, and Quail hunting. With the area rapidly being developed and only having 16.1% remaining as vacant land in the area, you sure don't want to miss out on this prime investment opportunity.

Property Details

State: Georgia

County: Thomas

Apn:-B

Conveyance: Warranty Deed

Title: Free & Clear

Address: Tbd

Center Gps: 30.864680, -83.978360

Size: 3.37 acres

Zoning: Agricultural

Access: None

Power: Available on street

Water: Available on street

Sewage: Available on street

Gas: Propane

Phone: At&T Verizon, T-Mobile

Internet: Cnsnext

General Elevation: 279 Ft

Terrain: Flat

Camping/RV: Not allowed

Mobile Homes: Not allowed

Property Taxes: Approximately Hoa: None

How To See The Land

Simply enter any of these GPS coordinates in your favorite maps software to find it. See below for approximate coordinates:

Center: 30.864680, -83.978360

Northwest Corner: 30.865130, -83.979460

Northeast Corner: 30.864980, -83.977480

Southwest Corner: 30.864450, -83.979280

Southeast Corner: 30.864360, -83.977490

Nearby Towns From The Property

Nearby Towns From The Property: Thomasville (6 min from the property), Cairo (18 min from the property), Moultrie (33 min from the property), Valdosta (54 min from the property), Albany (69 min from the property)

Nearby Points of Interest

The Big Oak | 5 min. from the property

Cherokee Lake Park | 8 min. from the property

The Thomasville History Center | 4 min. from the property

Lost Creek Forest | 14 min. from the property

Millpond | 15 min. from the property

Flowers History in the Baking | 6 min. from the property

MacIntyre Park | 3 min. from the property

Buying Process

1) Once you have picked your property our team will prepare a standard contract that we use for all property sales.

2) Our team will send the contract for your signature and once fully executed we will send a copy for your records.

3) Next our team will engage the title firm that closed the property when we acquired it. Due to the fact that the title firm we engaged recently issued a title policy they are best fit to complete the transaction as quickly as possible. All title and closing fees are Buyer's responsibility. Note: All title firms we engage are licensed in the state where the property is located and are either a national title agency or recommended by a national title agency that our company works with on a regular basis.

4) Within 72 business hours after the contract has been signed, the earnest deposit will need to be deposited with the designated title firm.

5) Once ready to close, the title firm will arrange for funds, paperwork and subsequent signings to take place. Any questions regarding the closing will be sent to the title firm in charge of the closing, but our team will be here to help assist where we can be of help.

6) Enjoy your property once the closing is complete.

Cash + Closing Fees. Deposit to secure the property.

Financing with 8% Interest. Required down payment: + Closing Fees. Monthly payments of for 60 months. All payments are made via our PCI compliant provider, or via check, money order, or other options. Financing quotation available upon request.

About Us

What makes us different? We are Debrosland, a land company that prides itself on delivering an experience like no other in the land investing space. Our mission is simple, to democratize the ownership of land. You are doing business with the owners of the company, two small town men that stand on the principles of small town Usa; not some big corporation based in New York that doesn't care about you and your unique land investing needs. If interested, check out our inventory.

Disclosure Statement

Debrosland, its managers, employees and all other affiliates do lengthy research on all properties prior to listing them, in all cases we have not seen the property. All prospective buyers are encouraged to conduct their own due diligence to verify the information provided is accurate and contact the county to confirm that whatever plans you as the buyer have for the property in question are in fact legal, feasible and permitted. Due diligence is the buyer's responsibility and all sales are final. To see a full list of our disclosure statement and other notices please visit our Terms & Conditions page.