4 Ac Only $1 Down, $299/Mo
Portville, NY 14770
Cattaraugus County, New York
Expired Listing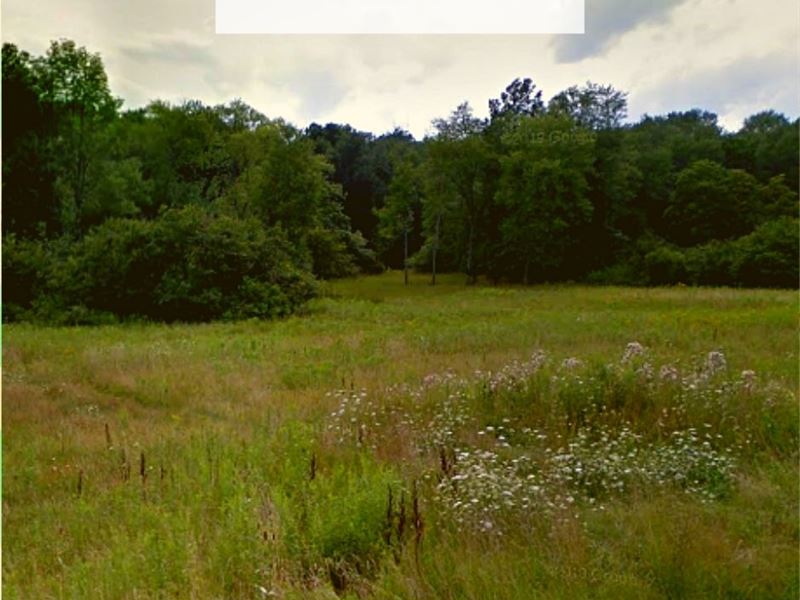 Land Description
Cattaraugus County is a rugged county near the border of Pennsylvania characterized by the Appalachian landscape. This is a forested area not too far from the Allegany National Forest and is a perfect location for someone looking to build a vacation cabin or simple getaway for hiking, hunting or camping.

"Real estate cannot be lost or stolen, nor can it be carried away. Purchased with common sense, paid for in full, and managed with reasonable care, it is about the safest investment in the world." - Franklin D. Roosevelt, U.S. president

The lot is about 15 minutes to Olean, 40 minutes to the Allegany National Forest, and 1 hour and 40 minutes to both the Susquehannock National Forest and Buffalo.

"Ninety percent of all millionaires become so through owning real estate. More money has been made in real estate than in all industrial investments combined. The wise young man or wage earner of today invests his money in real estate." - Andrew Carnegie, billionaire industrialist

The parcel is located within the Town of Portville, and, according to our research, there is no zoning in the Town. However, please note that New York State public health laws do not allow full-time RV living.

Cash Discount Price + Document Fee

We accept payment via PayPal, wire transfer, ACH transfer, and Zelle.

Seller Financing down with a document fee and per month for 80 months at 0% Apr. No prepayment penalty. No credit checks.

Hold Price we can hold the property for you for 72 hours while you decide whether you want to purchase. If you buy the property, this will count toward the purchase price.

Title And Use

What you can or cannot legally do on the land is controlled by the local government, not by us or any seller. Please contact the county, providing them with the parcel number, to confirm zoning, access, and available utilities.

Buy Or Hold

About Cattaraugus County

According to "We are the other side of New York. We are the Enchanted Mountains of Cattaraugus County in the Chautauqua-Allegheny Region of Western New York; where beautiful scenery displays forested, rolling hills and clean, sparkling lakes.

Located in Western New York's scenic uplands, Cattaraugus County is a panorama of thriving communities, rolling farmlands, forests and picturesque waterways. Its wooded hilltops overlook valleys sculptured by glaciers of the Ice Age.

The Allegheny River flows through the southern towns, two cities and the Seneca Nation of Indians Reservation. This river offers recreation to thousands of fishermen, campers, boaters, and others along its banks and tributaries.

Cattaraugus Creek forms a major portion of the northern boundary of Cattaraugus County. This Creek runs through the spectacular "forever wild" Zoar Valley.

The scenery of the valley's gorge creates a narrow steep-walled canyon, while the valley offers a preserve for picnicking, sightseeing, hiking, fishing, and white water rafting.

Lot Details

Assessor's Parcel Number:

113.001-1-7.3

Approximate Elevation: 1540 Ft

GPS Coordinates (approx.): Please note that the GPS coordinates are approximate. They come from public assessor GIS data and are fairly accurate, but to find the exact boundaries of the property, it is best to hire a local surveyor.

Center: 42.0191, -78.3567

42.0203,-78.3564

42.0175,-78.3565

42.0175,-78.3571

42.0204,-78.3570

42.0204,-78.3570

42.0204,-78.3567

42.0203,-78.3564

Annual Zoning

Time Limit to Build: None as far as we are aware

Access: Improved Road

Power: There may be electricity poles in the area, but electricity would need to be connected to the lot.

Water: A well would need to be installed.

Sewer: A septic system would need to be installed. Please note that a perc test has not been done.

Contacts: Town of Portville; Portville Code Enforcement Officer

"Buy on the fringe and wait. Buy land near a growing city. Buy real estate when other people want to sell. Hold what you buy." - John Jacob Astor, real estate and business mogul

Frequently Asked Questions

Can I build a home on the lot? Because we do not know the specifics of what you may want to build on the property, we recommend that you contact the building and/or zoning department(s) for more information on the relevant zoning and building regulations and how to obtain a building permit.

Can I visit the property? Of course. There is no need to make an appointment - please feel free to visit the property at any time. Please also note that we won't be able to meet you at the lot.

Does the property have an address? No, since the property is a vacant parcel of land, it hasn't been assigned an address. However, you can plug the approximate GPS coordinates into Google Maps in order to locate the property.

Has a survey been done? No, we have not had a survey commissioned, but if you would like to pay for a survey we would be happy to work with your chosen surveyor.

Can you park an RV on the property? We recommend that you contact the county to confirm, but, in most counties, RVs are only allowed on a temporary basis.

Are taxes up to date? We pay all tax bills as soon as we receive them, but you can always check with the County Treasurer to verify taxes have been paid.

Has a title search been done? Given the price point of our properties, we do not typically purchase a title search or title insurance when we buy a lot. However, we do our own research to check for title issues and liens and would never purchase a property that has a known title issue. We are also happy to work with the company of your choosing at buyer's expense.

How does the closing process work? We try to keep the closing simple and straightforward. Please just send us the full name of everyone you would like on the deed, a mailing address and phone number, and whether you would like to purchase with cash or utilize owner financing. We will then send you an invoice for either the down payment plus the document fee or the cash discount price plus the document fee. We accept payment via Zelle, wire transfer or ACH transfer as well as PayPal for properties priced under you purchase with owner financing, we will then send the loan documents to you for your signature via docusign.

If you purchase with cash, we will then draft and record the deed transferring title to you. Once the deed is recorded, we will send you a copy for your records.

Do you work with a title company? Yes, we are always happy to work with the company of your choosing at buyer's expense.

How does owner financing work? With owner financing, we will sign a land contract that gives you legal right to use the property; however, you won't be able to pull any building permits during the loan term. Once the down payment and document fee are paid, we will send you a link to our third party loan servicing software, where you will make monthly payments for the length of the loan term. After the loan is paid in full, we will then transfer title to you.

What kind of deed will I receive? You will receive a special warranty deed, which means the seller is guaranteeing that the property wasn't encumbered during the time of his/her ownership.

How many people can be included on the deed? You can have as many people listed on the deed as you would like.

Can the deed be made out to an Llc? Yes, the deed can be made out to an LLC or corporation.

Does the property come with mineral rights? We buy all of our properties assuming that we only have the surface rights. In order to determine whether a particular property has mineral rights, you will usually need to hire a title company to run a mineral rights search going all the way back to the original homestead.

"Buying real estate is not only the best way, the quickest way, the safest way, but the only way to become wealthy." - Marshall Field, entrepreneur

Final Note

We completed an extensive due diligence process on this lot, but we recommend you do your own research as well. Take the time to get to know your new property before purchasing - it could remain in your family for generations.

"Buy land, they're not making it anymore." - Mark Twain, writer and humorist

Our mission is to offer high quality properties at reasonable prices, provide maximum transparency and always strive to do the right thing.

If you are interested in land investing, you can check out our article on How to Get Started in Land Investing.