Lake Life is Calling
Georgetown, FL 32139
Putnam County, Florida
Expired Listing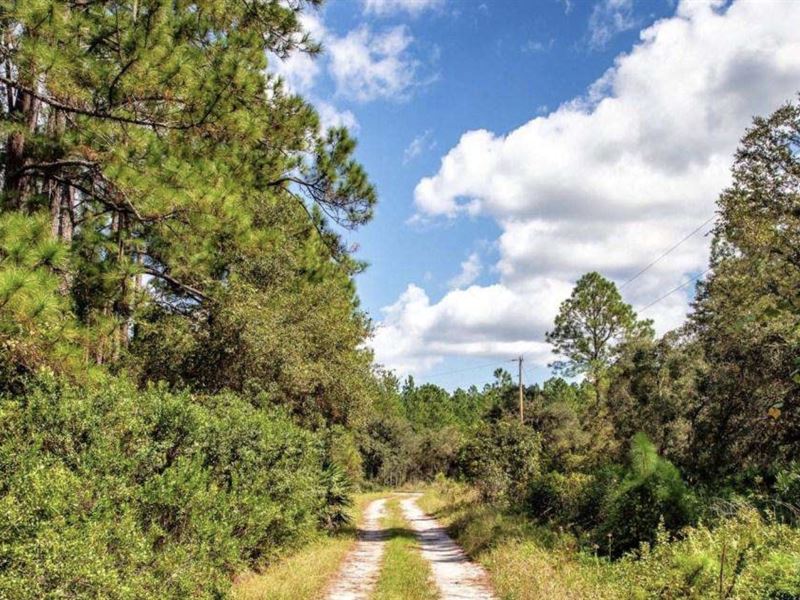 Land Description
Owner Financing:

- down (plus the doc fee)

- down and for 60 months (plus prorated taxes and note maintenance fee)

Welcome to 0.23 acres in the community of Georgetown Cove (a.k.a. Paradise Lakes) in Georgetown, Florida, just steps from the north end of beautiful Lake George. Georgetown Cove features cozy and reasonably priced homes that make a perfect first or second home. The community dates back to 1983 and has continued to develop over the years as a destination for lake lovers and fishermen. A 39,000 acre conservation area, known as the Lake George Wildlife Management Area, adjoins the eastern border of the subdivision, offering camping, hiking, hunting, fishing, and wildlife viewing.

Members of the Georgetown Cove property owners association have access to the private 9 acre waterfront park, located directly on Lake George. Make use of the boat launch right in the park for easy access in and out of the lake. Enjoy sunsets and fishing from the dock on the water. The park also offers three short-term campsites, permanent BBQ grills on the waterfront for your family cookouts, and a covered picnic building with tables, where you can pass the time in the shade.

This property is very unique as it allows for limited RV use, which is not common on residential property in the state of Florida. RVs may be used for temporary visits (see zoning details for length of time) without needing a temporary use permit as long as the RV is self-contained and it's being used by the owners or friends and family of the owners (with permission). Plus if you plan to build on the property, the RV temporary use permit is good for 6 months.

Lake George is the second largest freshwater lake in Florida, covering 46,000 acres. There are a number of popular recreation spots on the lake including Silver Glen Springs and Salt Springs. Silver Glen Springs is a first-magnitude spring and the main attraction of the Silver Glen Springs Recreation Area of Ocala National Forest. It lies at the east edge of the national forest. It is about 2 miles north of the entrance of Juniper Creek, and it is along the edge of Big Scrub.

You're also close to the St. Johns River where you can catch largemouth bass, crappie, bluegills, catfish and more. Not into fishing? No problem, take a scenic riverboat tour of the area instead or day trip to DeLeon Springs to visit Volusia Speedway Park or make your own pancakes at the Sugar Mill restaurant (housed in a historic replica mill building).

Centrally located, Georgetown is a close drive to the ocean with St. Augustine and Daytona Beach both less than 60 miles away. Experience the magic of the mouse with a trip to nearby Disney World and all of the Orlando area resorts. But best of all, just sit back, relax and enjoy your new life in Lake George.

Subdivision: Paradise Lakes S/D Unit 4

Street Address: 328 Laisy Dr, Georgetown, FL 32139

State: Fl

County: Putnam County, Fl

Zip: Fl 32139

Size: 0.23 acres

Lot Dimensions: 82 feet x 125 feet

Legal Description: Lot 36, Block 127, Unit 4 OF Paradise Lakes Subdivision, as recorded in Map Book 5, Page 48, of the public records of Putnam County, Florida.

Lat/Long Coordinates:

Nw: 29.380220, -81.586728

Ne: 29.380217, -81.586477

Sw: 29.379875, -81.586724

Se: 29.379876, -81.586473

Elevation: 20 ft

ANNUAL Taxes: Approx. per year

ZONING: R-2 - Site built, manufactured and mobile homes are allowed. No time limit to build. Minimum size is 700sqft. Mobile homes require permanent installation and must comply with H.U.D. standards. Tiny Homes are not allowed; however small homes that comply fully with the current Florida Building Code can be constructed in R-2 Zoning Districts. RVs may be used for temporary shelter in the residential zoning districts without need of a temporary use permit under the following conditions: 1. The use is for temporary visits on a non-fee basis by the property owner or by friends and family members of the owner or occupant of the property, with permission of the property owner. 2. The RV is self-contained. 3. The extent of the stay in the RV does not exceed 14 consecutive days or 120 non-consecutive days in a given calendar year. If planning to build on the property, the RV temporary use permit is available and shall have a duration limited to 6 months (once approved), subject to an extension of time up to 6 months if the construction of the principal residence is diligently proceeding. Maximum time allowed is 12 months. The recreational vehicle shall be self-contained or shall be lawfully connected to an outside source of electrical power, potable water, and sewage disposal. Contact Putnam County FL Planning and Zoning Department for any additional details.

HOA/POA: Yes: Property Owners are required to maintain membership in the Georgetown Cove Property Owners Association; current association dues are per year (road maintenance & access to the gated 9 acre park, dock & boat launch on the lake).

Improvements: N/A

Access: There is a proposed legal road on the southern portion of the lot but it looks like the road to this property is completely overgrown (or never existed). In order to access this property a new road would need to be cut in.

WATER: Would be a well, water haul and holding tank or other similar option

SEWER: Would be by Septic

UTILITIES: There are power lines along Lakeshore Dr about 0.1 mile. Power could also be by solar, wind or generator. Phone by cellular, satellite Tv/Internet/Phone.