Off-Grid RV Lot Near Water Park
West Fourth St : Sheridan, TX 78957
Colorado County, Texas
Expired Listing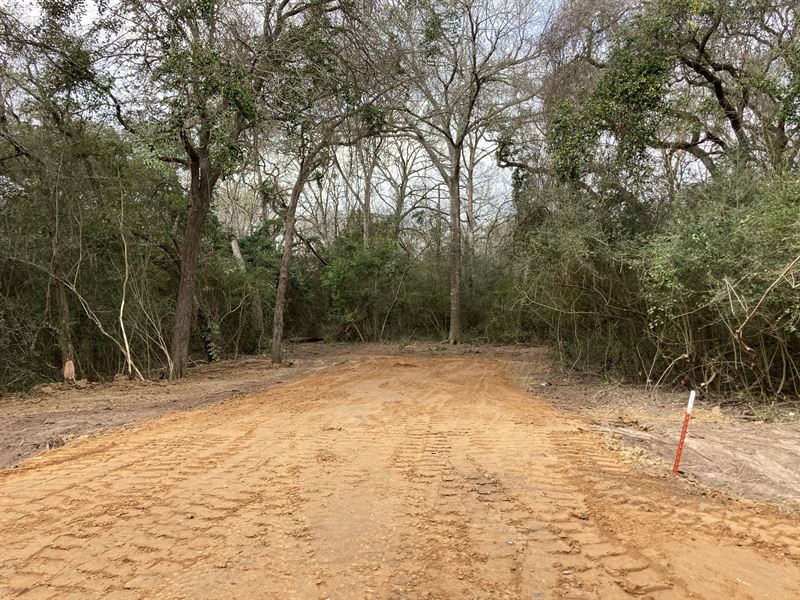 Land Description
$9,500 Cash Price

$900 Deposit Secures This Property

$3,500 Due at Closing if Owner Financing

Property Details:

Property Name: Thoma17026 Lot 2

State: Texas

Size: 0.09 Acres

County: Colorado, Tx

Property ID: 16997

Address: West Fourth St; Block 67 LT N/2 3

Conveyance: Warranty Deed (Clean Title)

City: Sheridan

Gps: 29.495050, -96.676190

Annual Taxes: $5.75 Annually (Approx)

Annual HOA / Poa: None

Restrictions: Unrestricted

Property Overview:

This 2,500 square foot property comes with 25 feet of road frontage and sits in a perfect location for Off-Grid Storage or recreational / residential use. We brought in 13 loads of clay and dirt to level the lot, installed a 15-inch culvert, added road base, and also reformed the ditch to allow proper drainage of the property.

This Property Allows:

Full-Time RV Storage or Residential Living

Full-Time Mobile campers (travel trailers)

Full-Time Portable camper use

Motor Homes

Mobile Homes

Tents

Conventional Builds

Storage Buildings / Structures

Solar Power for Off-Grid

Water hauling or Rain Water collection

Attractions:

Touted as the cleanest water park in Texas, Splashway Water Park features 11 water slides and thousands of gallons of water in their many pools. They also have Laser Tag, putt-putt golf, paddle boats, and so much more. Located right between Houston and San Antonio, travelers come from all around Texas to experience what some believe is the best water park in the state. And with campsites, and great food at the Hideaway, its no wonder people flock to this watery destination, but you'll be just down the street on your beautiful 0.18 acre property.

Get out on the trails at MudBuddies, a 300 acre ATV park just over 40 minutes from the property. Race through the well maintained trails, ramps, and mud pits for a 4-wheel drive redneck adventure. Entry fee is only $14. The park comes alive at night, with riders sporting LED and Neon lights on their Rangers, 4-Wheelers and ATVs to explore the trails as a midnight caravan. Keep the fun going and stay the night at their overnight cabins ($35 / night).

Cruise wine country, and travel the Texas Independence Wine Trail, a 9-member collection of vineyards and wineries each offering free tastings and their own delicious line of Central Texas wines to taste. Escape with your spouse on a romantic tasting journey starting at Whistling Duck Vineyards and Winery, only 16 minutes from the property. You'll also find Lavaca Bluffs, Cast Iron Winery, and more.

Location:

This property is located inside Sheridan, where you'll only be less than one mile from the nearest gas station, diner, grocery store and only 4 blocks walking distance to Splashway Water Park The cleanest water park in Texas.

Less than 20 minutes away, you'll find Hallettesville, with great selection of grocery stores, including Berkshire Brothers and Walmart, as well as some delicious local restaurants and national brands.

This property is 1 hour and 33 minutes from Houston, Texas, and 1 Hour and 58 minutes from San Antonio.

Utilities:

Utilities are accessible in the town of Sheridan but line extension costs are more expensive than usual. Estimates run approximately $10k for Water Service Meter (including line extension) and $10k for Power Service to extend to this lot over Hwy 90. An underground sewer line already extends to this property and accessible with a nominal tap-in fee (approximately $750).

Service providers are Sheridan Water Corporation and San Bernard Electric Co-op.

Property Taxes are only approximately $5.00 annually.

is a land investment company. If you are interested to become our business lending partner, contact us for more information.