Colorado Commercial Land Absolute
Walsenburg, CO 81089
Huerfano County, Colorado
Expired Listing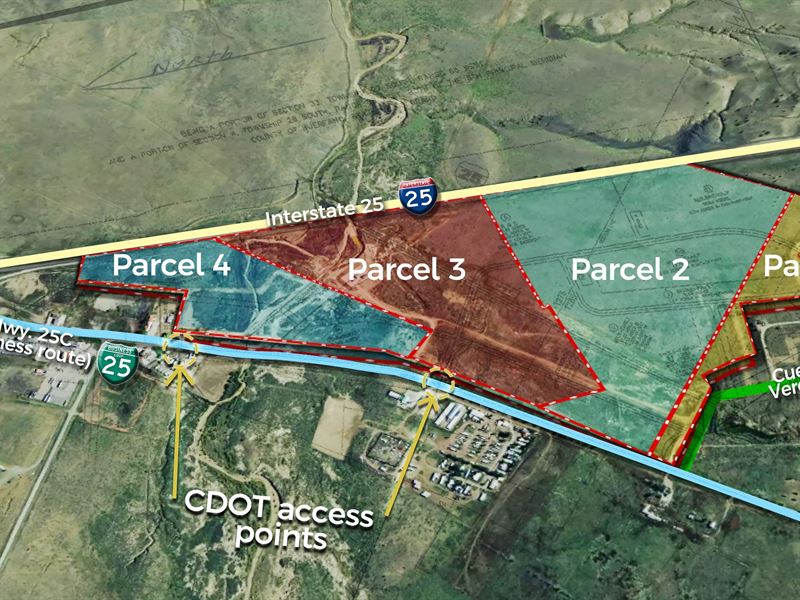 Land Description
Absolute Auction

This Is Your Opportunity To Bid, Buy, And, Own 175 Acres Of I-25 Highway Frontage In Walsenburg Colorado.

Will Absolutely Sell Regardless of Price.

Online-Only Auction End Thursday, May 20 12 00 PM Mdt

Seller Financing Available

175 Acres Subdivided in 4 parcels - Offered As a Complete Package

Imagine owning high-demand commercial property along a massive growth corridor in the heart of Colorado. The 175 acres are of I-25 Frontage off exit 52 in Walsenburg. The I-25 corridor in Walsenburg is Colorado's next significant development area. Current zoning allows for mixed-use tourist commercial, community commercial, and light industrial the city will work with investors to rezone the agricultural property. This prime land has Endless potential

Auction Details Date & Time Thursday, May 20 12 00 PM Mdt

Location Online Only

PREVIEW Dates Drive by any time or call for a private showing

TYPE OF Auction Absolute Auction - No Minimums, No Reserves.

Buyer's Premium 10 Initial Bid Deposit Money Deposit 10 of Final Contract Price

Broker Co-Op 2.5 Property Features 175 Acres Subdivided into 4 distinct parcels -all connected in a single strip of land Parcel 1 - 8 Acres

Parcel 2 - 82 Acres

Parcel 3 -49 Acres

Parcel 4 - 35 Acres

I-25 Frontage off exit 52 - massive growth corridor

Surrounded by multiple business & ready for development

Current zoning allows - mixed-use tourist commercial, community commercial, and light industrial

City will work with investors to rezone the agricultural property

Potential for residential SFR and Multi-Family

Ideal for Gas Station, Truck Stop, Service Center, Fast Food, Hotel/Motel, Restaurants, and More.

Set up with new 6-inch gravity sewer lines, 8-inch water lines, and natural gas are available.

Four possible ingress and egress access points from Cuerno Verde Rd.

Register Here to Bid and Make this Property your Next Best Investment.

About Walsenburg

Walsenburg lies within the Spanish Peaks Country in Southern Colorado. This area has drawn explorers, settlers, and visitors for centuries. Cut by a scenic highway wrapped in tales and tradition and packed with natural wonders, outdoor recreation, and artistic inspiration, this unique corner of Colorado is not only where legends roam it's where they play, create, explore, and thrive. Excerpt from Contact Us Today For More Information.

United Country

, Broker / Preferred Realty

Walter Walker, Realtor Visit website for full auction terms. All property measurements are approximate. All information on this website was delivered from sources believed to be correct but not guaranteed. It is the buyer's responsibility to verify all property specifications prior to the auction date. Prestige Real Estate Auction, LLC is an agent of the seller. Announcements take precedence over printed materials. Not available to residents of any state in which this real estate is not in compliance with the real estate laws or other laws of that state. For Complete Terms & Conditions, go to the Property Information Packet on PrestigeAuction Franchise office is independently owned and operated.