Awesome Ag / Res Land, Power, Paved
Newberry Road : Newberry Springs, CA 92365
San Bernardino County, California
Expired Listing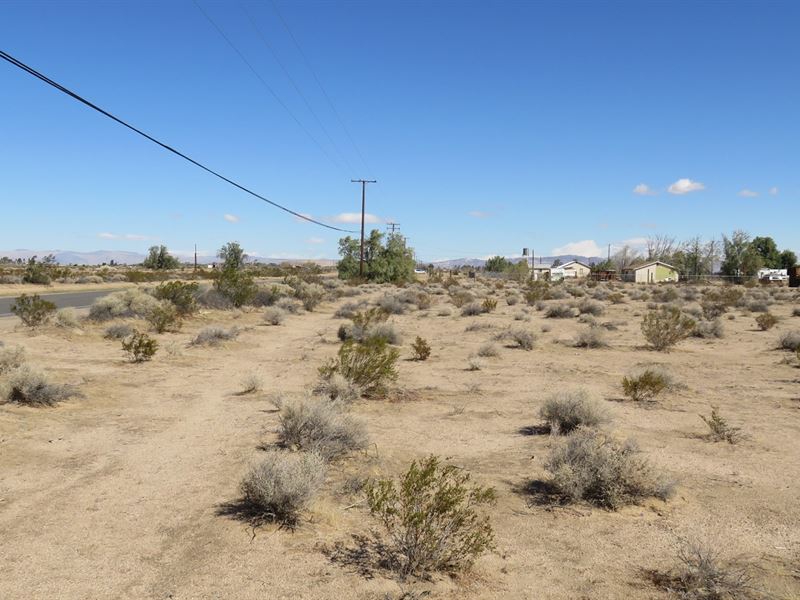 Land Description
Here's a prime 5 acre parcel in Newberry Springs.

This won't last...Please go see the parcel as soon as possible.

See actual pictures we took at the parcel. Also see maps attached in files at bottom of listing.

This 5 Acres parcel is on Newberry Road just north of Valley Center Road.

This land has paved road frontage and power at lot line.

Water is plentiful here and soil is fantastic for agriculture.

Water would be by well, and sewer by installing a septic system.

Buy with confidence... I'm a Pro - not a novice. I've been in the land business for close to 20 years, with thousands of properties sold.

Legal Description: Parcel MAP 2208 Parcel 1

Lot dimensions: 330' X 660' feet

Coordinates to SW Corner: 34.882701, -116.662476

Annual taxes are only you need short term finance we can do it at the following terms:

Purchase price is get started: A Down Payment of + Closing Costs of is to be paid via Paypal.

I will email the buyer a Paypal invoice upon being notified you wish to purchase this land.

Remaining balance of financed via Contract for Deed with 2 options to choose from:

A) 10 Months with 0% interest, monthly payment of 20 Months with 3% interest, monthly payment of will add to monthly payment for prepayment of property tax.

Free and Clear Title is 100% Guaranteed.

Cash Buyers will get a discount, and have the option of going through Escrow and Title at their expense.

When/if ready to buy, these are the steps of the purchase process:

1. Buyers email me their full name and address.

2. I then prepare the contract and email it along with the Paypal invoice for the initial amount to get started.

3. That payment must be submitted promptly, and I then mark the Listing Sold.

Note:

There is no pressure to buy. Please don't send an email saying you are ready to proceed, if in fact you're not...I'm a very busy guy, "Drills" are unwelcome and unnecessary.... I have sold thousands of properties, so I know how to do this :)

Also note:

I encourage my buyers to use the land while on contract, enjoy it, make small improvements, etc.

To be perfectly clear, in no uncertain terms... I am selling "vacant Land" - not entering into a "Landlord-Tenant" relationship...

That being said, if your intention is to start living on this land right away - then you must also pay for it in full right away - 100% use requires 100% ownership.

I need to mention this because I've had a few folks who presumptuously assumed since they paid a few hundred dollars to get into a land contract, they can now "move right in" and do as they please...