Beautiful 1800'S Home Partial Log
3673 Gottshydro : Oakland, KY 42159
Warren County, Kentucky
Expired Listing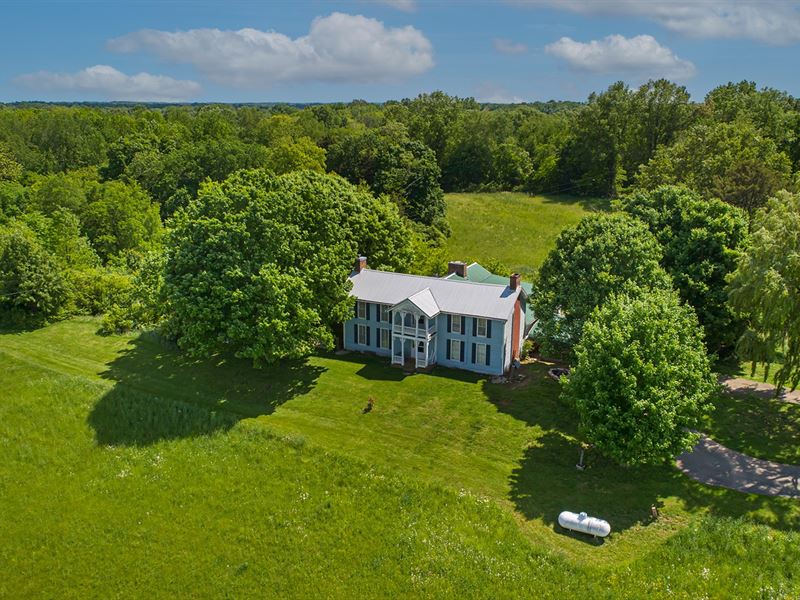 Land Description
Auction Saturday June 5th, 2021 10 00 AM On Site Circa Early 1800S Home Sitting on 23.86 Acres and being Offered in 5 Tracts

Tract 1 1.52 Acre corner lot with 182' of road frontage on Sunnyside Gott Rd & 304' of frontage on Elys Franklin Road. All open and an excellent building lot.

Tract 2 5.35 Acre tract with 257' of frontage on Gott Hydro Rd. & 150' of frontage on Elys Franklin Road. All open and in grass.

Tract 3 5.19 Acre tract of mostly open grassland. This tract fronts 257' on Gott Hydro Rd.

Tract 4 1.80 acre lot with 320' of frontage on Gott Hydro. All open and in grass.

Tract 5 3673 Gott Hydro Rd. Oakland Ky. 42159. This 10 acre tract of land is locted at the dead end of Elys Franklin Road and is the perfect setting for what is know as the Elrod House. This home is rich in local history and beginning in the 1800S the Elrod Family built the cabin portion of the home from mostly raw meterials taken from the land. Then the larger portion was added later around 1856 by the younger Elrod son.

The reflection of German building influences can be found in the cabin notching, the wooden pegging and the hand molded & kilned brick work. Along with hand hewn & crafted finish lumber, all creating the sturdy frame of this 200 year old home.

As a testament to their labor & skill, she has survived the early & wild days of Kentucky statehood, the Civil War,

the penny auctions of the Great Depression, and every war every fought. Standing unshaken, housing generations of

people.

Some of the orals of this property range from a visit from Jessie James after he robbed the bank at Smiths Grove, Ky to Civil War prisoners being marched in front of the house on their way to Camp Andersonville.

The current owners cherish the time they have spent and the love for this unique home but are ready to move on and let a new owner enjoy their time and leave their mark in history with the Elrod Home.

Features of this 2 story home include almost 4,000 sq. ft. of living space with 5 bedrooms, 3 full baths, 2 family rooms and a living room.

Terms & Conditions 10 down day of sale, balance due no later than July 6th 2021. Possession will be given at closing. 2021 real estate taxes will be paid by proration. A 10 buyers premium will apply. Real Estate is selling As-Is and subject to all easements and restrictions, recorded and unrecorded. This home was built prior to 1978 and an opportunity to test for lead base paint is offered prior to sale day a waiver is required to be signed if you are the winning bidder. We encourage your personal inspections and due diligence, prior to bidding. There are no pre-sale or post-sale contingencies, including financing, appraisals or inspections. The land will be selling by the recorded plat. Real Estate will be conveyed by a General Warranty Deed. Social Distancing and CDC Guidelines will apply sale day.