10.18 Acres in Winona, TX
County Rd 3168 : Winona, TX 75792
Smith County, Texas
Expired Listing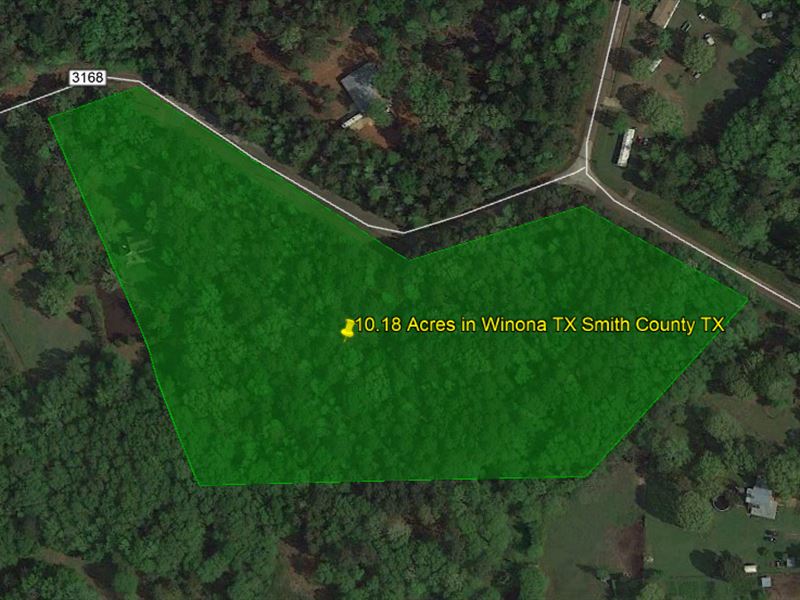 Land Description
Cash discount and affordable financing terms available

(You can visit the property anytime)

This parcel is located in Winona, TX; Smith County; TBD County Rd 3168.

Property Information:

Everything you desire from your Dream Property is here. Get away from crowded places and infinite traffic lines and start a new life in a special place surrounded by nature and fresh air. We offer this beautiful 10.18-Acre land in Winona, TX. This property resides within Smith County and is located just 1:45 hours from Dallas, TX. You won't believe your eyes at all the spaces we have available just for you. The time for a change in your life is now. Provide your loved ones with the happiest memories on Your Land. Ask for our special cash discount just for you or our owning financing option (Only a small down payment with no credit checks). Plus, Mobile Homes ARE Allowed. You won't regret it. Call and start living the life you deserve.

Pricing & Terms:

Payment Plan wholesale price: savings)

Down payment: payment: Only (including taxes)

Term: 5 years

One-time documentation fee: 32.4184, -95.0089

Property Dimensions: 548.155 ft wide X 1,104.5 ft long (with other various dimensions)

Disclaimer - Buyer must perform their own due diligence they should do with any land purchase. This land is sold as is and all information provided is to the best of seller's knowledge. All utilities related to this property are potentially subject to a connection charge or additional expense to bring them to or onto the property. Many of the pictures provided are not personally taken by the seller and some of the presented pictures represent the general area near/around the property. , LLC is offering the presented property subject to its closing on the purchase. It is understood and agreed to by the parties involved that , Llc, while holding an equitable interest in and to the property, is not presently making, and has not made, any representation to any party that , LLC holds legal title in and to the property. Further, the Buyer hereby fully acknowledges and agrees that , LLC has provided the Buyer with full and complete disclosure as to , Llc's present interest, if any, in and to the property, and hereby waives any and all claims, be it at law or in equity, that the Buyer holds or may hold, currently or in the future, arising out of , Llc's disclosure of its interest in and to the property. To the fullest extent permitted by law, the Buyer hereby agrees to waive, release and forever discharge , LLC from any claim, be it at law or in equity, that the Buyer, their heirs, transferees, assigns, subrogees, devisees, and agents may allege, arising out of , Llc's disclosure(s) of its present interest in and to the property, if any.