Lake Medina Hill Ctry, Mobile / Rv
Nakona Dr : Bandera, TX 78003
Bandera County, Texas
Expired Listing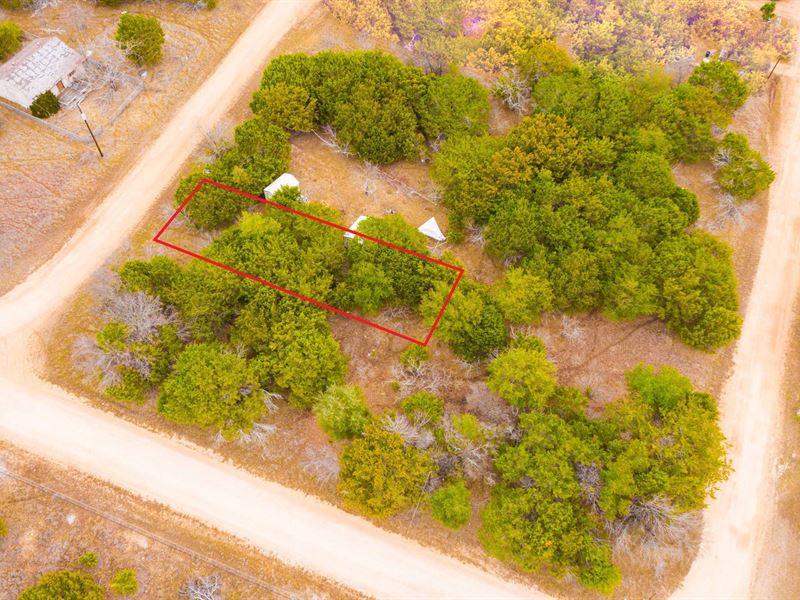 Land Description
Owner Financing Available. down, then for 60 Months.

(including service fee and property taxes)

Cash Discounted Price: Fee: non-refundable reservation fee secures this property. Reservation fee will be counted toward purchase price and down payment.

BBB A+ Rating Business: We are a Better Business Bureau Greater Houston Accredited A+ rating business. We ensure our customers have a seamless buying experience built on mutual trust. Call or email us today, ask any questions about our listings or purchase processes, we will help you find the right land.

Property Overview:

Just listed, is this quaint one tenth of an Acre in Unrestricted Lake Medina Shores. A perfect opportunity to escape to the lake with your RV or Trailer or build a home and move in full time. If you have big plans, this small slice of Bandera County might be just what you're looking for.

Nestled only 1 minute away from multiple access points to Lake Medina in Bandera County, one of the most popular and affordable lake areas in the Hill Country and surrounding San Antonio area. You are only a short distance away from beautiful fishing, camping, kayaking and swimming and within a 1 hour driving distance of Downtown San Antonio, Tx.

The property allows:

24-Hour Tent Camping

Unlimited RV Camping and Storage

Permanent residential living allowed via Mobile Home, Cabin, Tiny Home, Container Home or traditional residential structure.

Lake Medina Shores amenities include a community pool, boat ramp to Lake Medina, pier, playgrounds, cabanas, and maintenance of the roads.

This land is ready to tap into existing Water and Power Lines at the County Road Frontage. This property features very close proximity to Lake Medina boat launch access, mature cedar trees and No Flood Zone. The property measures 50' wide and 100' feet deep.

This property is suitable for septic installation and meets the minimum lot size requirements to install septic. To help you estimate a budget on preparing the property for septic (if you chose to do so), you can choose to install a Conventional System or an Aerobic System, depending on site plans and footprint. For an average 2,500 square foot home, a conventional system would cost roughly to install and an aerobic system would roughly cost to install.

Perfect for anyone wanting to build a home, park an RV, mobile home, or just to have as a great investment.

Utilities:

Electricity Service: Call Bandera Electric

Water Service: Call Monarch Water. Tap-In Fee for a Meter Install.

Septic Service & Water Wells: Call Buddy's Water Well & Septic Service

Distance to Local towns, attractions, and food, gas, shopping:

1 Mile from the Medina Lake RV Park and Camping

1 Mile from Boulderdash Cabin and RV Park

2.5 Miles from the Copper Lantern County Store

9 Miles or 15 Minutes from Downtown Bandera, Tx

11 Miles or 20 Minutes from Downtown Bandera Falls, Tx

1 Hour & 10 Minutes from Downtown San Antonio, Tx

12 Miles or 20 Minutes to Marathon Performing Arts Theater

12 Miles or 20 Minutes to Happy Tails Zoo

12 Miles or 20 Minutes to Bob's Burger Barn

12 Miles or 20 Minutes to Martine's Tacos

12 Miles or 20 Minutes to Champ's Chicken

14 Miles to Hill Country Elementary School

Buyer is responsible for performing their own due diligence in researching the property for sale. All buyers should verify all information, contained herein or not, including access and utility accessibility and costs, and perform physical visits to the lot in order to satisfy themselves as to its accuracy. Seller is not responsible for any misinformation in this ad. All information is deemed reliable but not guaranteed. Property is sold As Is.

Warning. We are not responsible for increases to Property Taxes due to fast appreciating property values. Some counties have doubled in property value from year over year.

Property details:

Property Name: Tx_Davis15971

State: Texas

Size: 0.10 Acres

County: Bandera

Address: Nakona Dr, Bandera, TX 78003

Gps: 29.637164, -98.978458

Property ID: 167852

Conveyance: Warranty Deed (Clean Title)

Annual Taxes: / Year (approximate)

Annual HOA / PO: / Year

Restrictions:

Camping, Storing and Parking of RVs Allowed on all lots. This includes RVs, pickup campers, camping trailers, van conversions, fifth-wheel trailers, mini-motor homes, travel trailers, and motor homes.

Tent Camping also allowed.

Mobile Homes should be of a recent model and require a 600 square foot minimum.

Permanent-Build Private residences require a 600 square foot minimum.

Full-Time Living in RVs not allowed unless planning to build a permanent structure.

Legal Description: Lot No 143, Section B, Lake Medina Shores Subdivision, As Shown By The Plat Thereof Recorded In Volume Slide 6, Page 2-3, Plat Records, Bandera County, Texas. Also Known As Parcel 167852, Geo Id:14550-02000-1430, Bandera County, Texas And Being Same Property As Conveyed And Recorded In 0313/436 To Don C. Davis, Whether Properly Described Or Not.

is a land investment company. If you are interested to become our business lending partner, contact us for more information.