.3271 Acres in Rio Vista, TX
Dusty Trail : Rio Vista, TX 76093
Johnson County, Texas
Expired Listing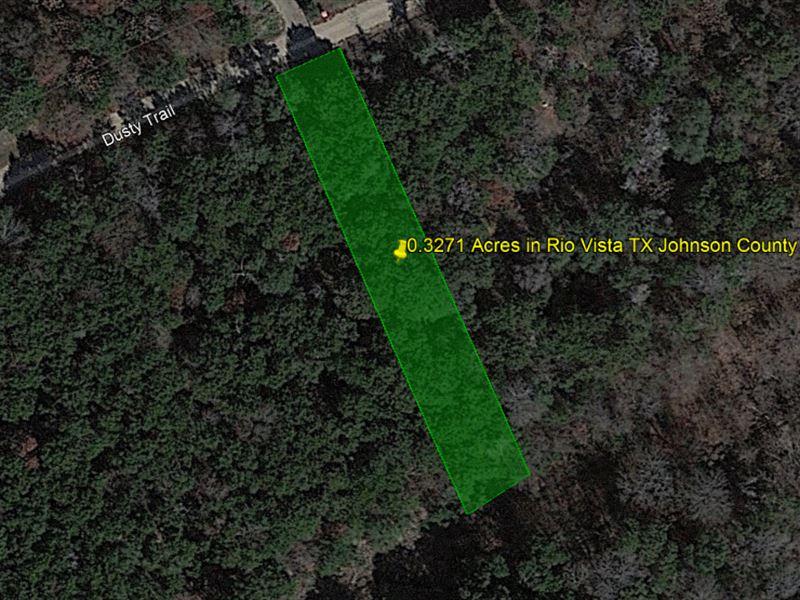 Land Description
Cash discount and payment plans available

(You can visit the property anytime)

This parcel is located in Rio Vista, TX; Johnson County; TBD Dusty Trail.

Property Description:

Experience what it feels like to have a better quality of life where amazing landscapes and natural surroundings will be part of your daily routine. Find the perfect place where you can experience true freedom of Texas. In this 0.3271 Acre property in Rio Vista, TX you will never get bored. This property is located in Johnson County and is just 1:20 hours from Dallas, TX. There is no perfect time so let's get you the right property today and let's work together for your wonderful future. Call us now and ask for our owner financing options and/or cash discounts.

Pricing & Terms:

Payment Plan wholesale price: payment: payment: Only (including Taxes.)

Term: 5 years

Coordinates: 32.1784, -97.4805

Estimated Property Dimensions: 59.57 Ft width X 237.46 ft depth (with other various dimensions)

Disclaimer - Buyer must perform their own due diligence they should do with any land purchase. This land is sold as is and all information provided is to the best of seller's knowledge. All utilities related to this property are potentially subject to a connection charge or additional expense to bring them to or onto the property. Many of the pictures provided are not personally taken by the seller and some of the presented pictures represent the general area near/around the property. , LLC is offering the presented property subject to its closing on the purchase. It is understood and agreed to by the parties involved that , Llc, while holding an equitable interest in and to the property, is not presently making, and has not made, any representation to any party that , LLC holds legal title in and to the property. Further, the Buyer hereby fully acknowledges and agrees that , LLC has provided the Buyer with full and complete disclosure as to , Llc's present interest, if any, in and to the property, and hereby waives any and all claims, be it at law or in equity, that the Buyer holds or may hold, currently or in the future, arising out of , Llc's disclosure of its interest in and to the property. To the fullest extent permitted by law, the Buyer hereby agrees to waive, release and forever discharge , LLC from any claim, be it at law or in equity, that the Buyer, their heirs, transferees, assigns, subrogees, devisees, and agents may allege, arising out of , Llc's disclosure(s) of its present interest in and to the property, if any.