1.1 Acres Only $1Dn, $99/Mo
Snowflake, AZ 85937
Navajo County, Arizona
Expired Listing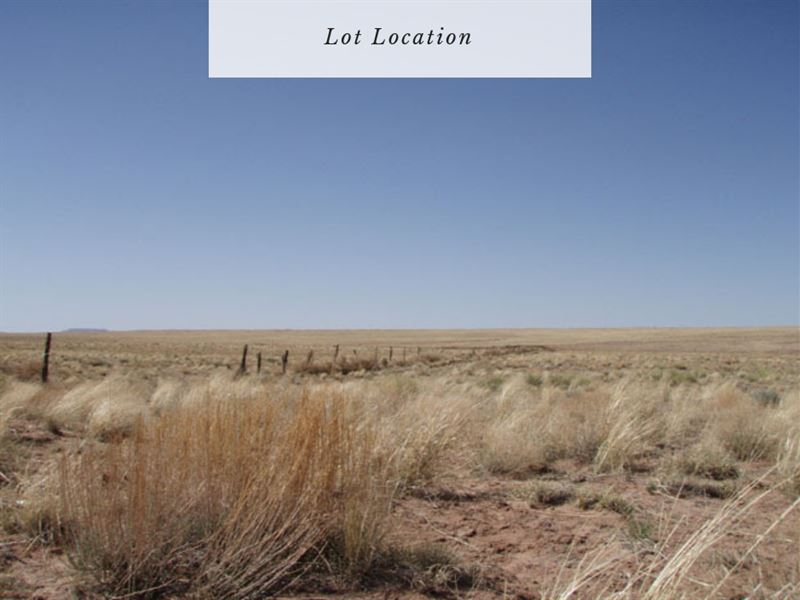 Land Description
Do you dream of owning a piece of the great American west? Well, we have a real catch. This is a 1.1 acre lot situated between the Petrified Forest National Park and the Apache-Sitgreaves National Park. The parcel is near the painted desert, perfect for hiking and horseback riding.

"Real estate cannot be lost or stolen, nor can it be carried away. Purchased with common sense, paid for in full, and managed with reasonable care, it is about the safest investment in the world." - Franklin D. Roosevelt, U.S. president

Our lot is about midway between Albuquerque and Phoenix, and 50 minutes to Holbrook, the county seat of Navajo County.

"Ninety percent of all millionaires become so through owning real estate. More money has been made in real estate than in all industrial investments combined. The wise young man or wage earner of today invests his money in real estate." - Andrew Carnegie, billionaire industrialist

This is a region with a lot of history - so if you love the southwest, rural living and the pastoral colors of the painted desert, this is the perfect place for you.

Zoning is Rural-20, which allows for the following uses: single family dwellings (20 acres min), accessory buildings, churches, contractor's yard, corrals, farms, feed stores (5 acre min), golf courses & driving ranges, home occupations, hospitals & institutions, libraries, parks, plant nurseries & green houses, private clubs & fraternal organizations, public & private forests & wildlife reservations, public utility buildings, public riding & boarding stables (10 acre min), roadside stands, schools.

Cash Discount Purchase Price + Document Fee

We accept payment via PayPal, wire transfer, ACH transfer, and Zelle.

Seller Financing down with a document fee and per month for 23 months at 0% Apr. No prepayment penalty. No credit checks.

Hold Price we can hold the property for you for 72 hours while you decide whether you want to purchase. If you buy the property, this will count toward the purchase price.

Title And Use

What you can or cannot legally do on the land is controlled by the local government, not by us or any seller. Please contact the county, providing them with the parcel number, to confirm zoning, access, and available utilities.

Navajo County

Navajo County is home to Monument Valley, part of the Colorado Plateau and site of picturesque sandstone buttes. The northern part of the county is close to the Petrified Forest, another part of the Colorado Plateau, which is also called the painted desert for its pastoral colors. Navajo County is also the site of the largest ponderosa pine forest in the United States. The county seat of Navajo County is the old cow-town of Holbrook. This town, once too rough for all but the most hardened of cowboys, is now known as the "city where adventure begins."

Lot Details

Apn: 403-09-369

Gps Coordinates: 34.989,-109.903702306; 34.989,-109.903691177; 34.989,-109.901521071; 34.989,-109.901530692

Legal Description: Ranch Of The Golden Horse 4 Lot 881

Taxes

Annual taxes are Taxes have been paid through 2019.

"Buy on the fringe and wait. Buy land near a growing city. Buy real estate when other people want to sell. Hold what you buy." - John Jacob Astor, real estate and business mogul

Frequently Asked Questions

How do I use the GPS coordinates to find the property in Google Maps?

Note: these are sample coordinates, please copy the GPS coordinates from this listing page.

Can I build a home on the lot? Please contact the Navajo County building department for more information on building permits and allowable structures.

Are there any improvements on the lot? No, the lot is vacant to the best of our knowledge.

Are there utility connections to the lot? There is not much in the way of public utilities in the area. You will need to install a septic system for sewer. Likewise, water will either be supplied by a well or water hauling service and power from a generator. Please contact Navajo County for more information on utilities.

How many people can be included on the deed? You can have as many people listed on the deed as you would like.

What kind of deed will I receive? You will receive a special warranty deed, which means the seller is guaranteeing the property wasn't encumbered during the time of his/her ownership.

Can the deed be made out to an Llc? Yes, the deed can be made out to an LLC or corporation.

Does the property come with mineral rights? We buy all of our properties assuming that we only have the surface rights. In order to determine whether a particular property has mineral rights, you will usually need to hire a title company to run a mineral rights search going all the way back to the original homestead.

Final Note

We completed an extensive due diligence process on this lot, but we recommend you do your own research as well. Take the time to get to know your new property before purchasing - it could remain in your family for generations.

"Buy land, they're not making it anymore." - Mark Twain, writer and humorist

Our Mission is to offer high quality properties at reasonable prices, provide maximum transparency and always strive to do the right thing.