Water Line Lake Medina $210/Mo TX
Timberline Dr : Lakehills, TX 78003
Bandera County, Texas
Expired Listing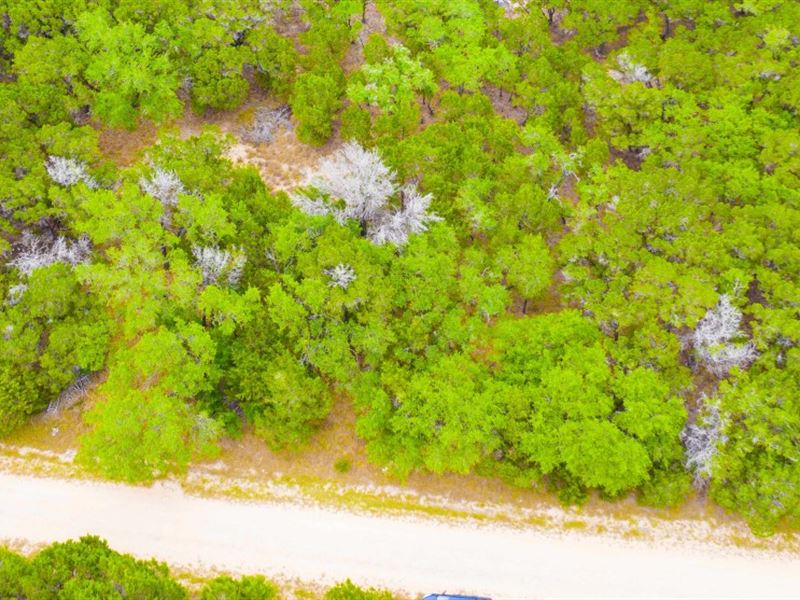 Land Description
Excellent value for this Spacious 0.14 Acre Lot in Unrestricted Lake Medina Shores.

Nestled only 1 Minute away from multiple access points to Lake Medina in Bandera County, one of the most popular and affordable lake areas in the Hill Country and surrounding San Antonio area. You are only a short distance away from beautiful fishing, camping, kayaking and swimming and within a 1 hour driving distance of Downtown San Antonio, Tx.

The property allows:

Temporary Tent Camping

RV Camping and Storage

Fith-Wheel Trailers

Mini-Motor Homes

Van Conversions

Campers

Permanent residential living allowed via Mobile Home, RV, Cabin, Tiny Home, Container Home or traditional residential structure.

Lake Medina Shores amenities include a community pool, boat ramp to Lake Medina, pier, playgrounds, cabanas, and maintenance of the roads.

This land is ready to tap into existing Water and Power Lines at the County Road Frontage. This half-acre property features very close proximity to Lake Medina boat launch access, mature cedar trees and 50 feet of road frontage. The property measures 50' wide and 125' feet deep.

This property is suitable for septic installation and meets the minimum lot size requirements to install septic. To help you estimate a budget on preparing the property for septic (if you chose to do so), you can choose to install a Conventional System or an Aerobic System, depending on site plans and footprint. For an average 2,500 square foot home, a conventional system would cost roughly to install and an aerobic system would roughly cost to install.

Perfect for anyone wanting to build a home, park an RV, mobile home, or just to have as a great investment.

Utilities:

Electricity Service: Call Bandera Electric

Water Service: Call Monarch Water to Tap into the Water Line at the Property. Tap-In Fee for a Meter Install.

Septic Service & Water Wells: Call Buddy's Water Well & Septic Service

Distance to Local towns, attractions, and food, gas, shopping:

1 Mile from the Medina Lake RV Park and Camping. Website:

1 Mile from Boulderdash Cabin and RV Park

2.5 Miles from the Copper Lantern County Store

9 Miles or 15 Minutes from Downtown Bandera, Tx

11 Miles or 20 Minutes from Downtown Bandera Falls, Tx

1 Hour & 10 Minutes from Downtown San Antonio, Tx

12 Miles or 20 Minutes to Marathon Perfroming Arts Theater

12 Miles or 20 Minutes to Happy Tails Zoo

12 Miles or 20 Minutes to Bob's Burger Barn

12 Miles or 20 Minutes to Martine's Tacos

12 Miles or 20 Minutes to Champ's Chicken

14 Miles to Hill Country Elementary School

How To Find The Land

To best help you find the property and any of the boundary line corners, please copy and paste any of these GPS coordinates into Google Maps on your computer or smartphone with your GPS turned on:

NW Corner: 29.63558, -98.99609

Ne Corner: 29.63567, -98.99573

Sw Corner: 29.63545, -98.99605

Se Corner: 29.63553, -98.99569

For example: copy and paste "29.63558, -98.99609" (with the comma and the dash) into the search bar in Google Maps to find the exact location.

We recommend this method as the best way to locate the property because the land will be un-marked with no signs or survey stakes.

Please understand we do not normally accompany property visits due to our low-cost business model.

Nearest Intersection or Street Corner:

Nearby Corner of Timberline Dr. and Canton Dr. Lakehills, TX 78003, Usa

How To See The Land

Call Us to make your appointment to see the land and to ensure it's still available before you make the drive. We do our best to give you as much information as possible upfront.

When making an appointment, we will provide you with a map of the property lines, directions to get there, GPS coordinates and any access or gate code instructions (if they apply) so that you know where to go and how to get in. Please be aware that we typically do not accompany property visits because of our low-cost business model.

Pricing

Our discounted-cash price is with no closing fees and only down to secure the property until closing.

Financing is available with a down payment + doc fee. We offer Flexible monthly terms with payments as low as per month. Choose your term at 12, 24, 36, 48 or 60 months depending on what you can afford each month. There are no pre-payment penalties, no closing expenses, and you choose the monthly pay date. Interest and processing fees apply, qualification required with proof of income.

We offer several ways to pay including debit, credit card, cashier's check, money order, bank transfer and PayPal. Each of our properties also includes a "Buy Now" link on our website to put down a deposit or to pay in full. If paying online, you will receive an auto-mated receipt confirming your deposit upon payment.

We cover all closing costs when you close direct with us. Title Insurance and Surveyor referrals available if you prefer to pay to close through an escrow service.

How To Buy

We offer several ways to pay including debit, credit card, cashier's check, money order, bank transfer and PayPal. Each of our properties also includes a "Buy Now" link on our website to put down a deposit or to pay in full. If paying online, you will receive an auto-mated receipt confirming your deposit.

After you've made your payment, please be sure to send me your full name, address, and marital status so that I can prepare our sales contract for closing and draft the deed to your property.

You can also call us anytime for a walk-through of the payment process.

Thank you for your business.

Bbb Accredited Business

We believe you should only have to do business with a reliable, transparent seller. That is why we are proud members of the Better Business Bureau of Greater Houston & South Texas. As a member, we uphold the BBB Code of Business Practices that form the foundation of how we do business. Our goal is to ensure our customers have a seamless buying experience built on mutual trust. To verify our BBB credentials, please visit our member webpage at We Are

- Real Estate Dreams made Affordable

My name is and I live in Houston, Texas the multi-cultural center of the country. I live here with my wonderful wife and family in one of the more affordable metropolitan areas you can find in the country.

I started about 3 years ago after learning about land investing when I started to search for alternatives to traditional investments like Stocks and Savings Accounts. I wanted a place to store my hard-earned savings that could be protected from the high volatility and uncertainty on Wall Street and the dangerously escalating national debt.

So I found land. I was really attracted to it because it's a fixed resource and Still relatively cheap compared with other high-cost investments like rental homes, apartment buildings, and so forth. But I really love it because land is like a blank slate - You can really do anything with it. And this is how my passion grew into a business because it gives me a connection to other people that share in my excitement for endless possibilities.

Our business model is all about acquiring vacant land at wholesale prices and passing along the savings to you (our customer). This helps us to keep the costs low and bring additional savings through our unique marketing channels and streamlined sales processes.

Our goal is to get you the best deal possible and we provide a 90-Day Exchange Policy - if you decide one of our properties you bought isn't what you wanted, we will exchange it for any another property in our active inventory - you only need to cover for any differences in the price.

Call us today to get the ball rolling, ask any questions about our ad or business processes and what we can do to help you find the land of your dreams.