The Beaches Lot 16 Cliff Point
Beaches L16 Cliff Point Rd : Kodiak, AK 99615
Kodiak Island Borough, Alaska
Expired Listing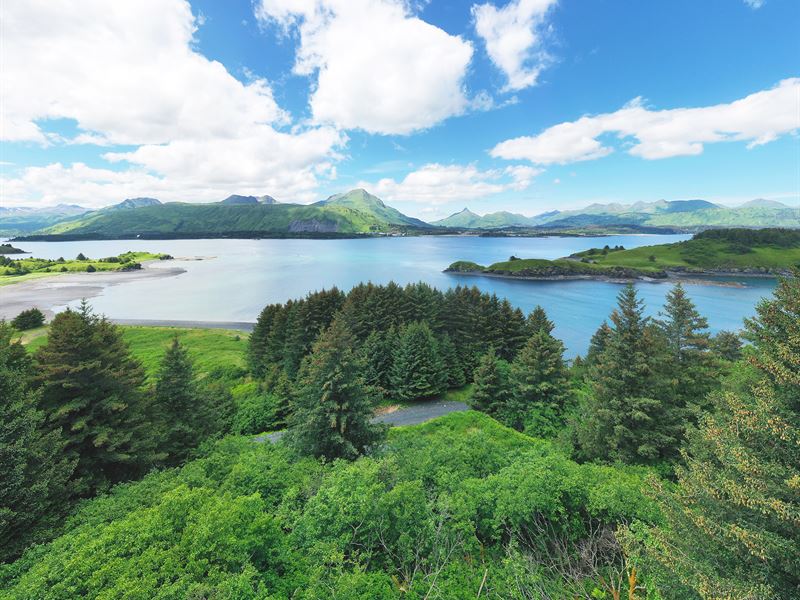 Land Description
The Beaches Lot 16 encompasses 2.78 acres of incredible oceanfront property located along the Northwest side of the exclusive Cliff Point Estates on Kodiak Island. The Beaches at Cliff Point truly embody Alaska living at its finest. Choose from 10 oceanfront and adjacent lots all boasting gorgeous mountain views, unparalleled outdoor recreation, unique access to the scenic shores of Women's Bay and excellent nearby amenities.

Over 50 premium lots are available through Cliff Point Estates Development in Kodiak, AK. Give us a call today for more info. Each lot offers incredible privacy with easy and maintained access

There is no timeframe for construction

The nice thing is you can build an accessory building/ mother in law suite to start

Sellers will consider some owner financing

The community is gated so no worries with the safety of your property while away, or waiting to retire

There is power run to each lot

Water would require a well approx and septic - diagram attached About Cliff Point Estates Cliff Point Estates offers a rare opportunity to own your own piece of private land located on Kodiak Island's scenic and pristine oceanfront landscape. With more than 400 acres situated minutes from the City of Kodiak, the Cliff Point Estates development offers remarkable custom-built homesites all overlooking the beautiful Pacific Ocean.

DEVELOPMENT Each homesite is thoughtfully designed to encompass a unique blend of luxury-style living with scenic seclusion. Each lot at Cliff Point Estates ranges in price and size, offering incredible space of undeveloped potential. New owners are welcome to bring their own architect and home plans, or utilize the Cliff Point design team to help develop your own unique vision for the property. Nowhere else can you find this ideal combination of quiet mountain living and oceanfront views with nearby recreation and amenities, like you can at Cliff Point Estates.

LOCATION & Amenities Kodiak Island boasts a lush landscape with abundant outdoor opportunities, all within minutes of nearby services and amenities. Kodiak is the transportation hub for southwest Alaska, with all commercial transportation between the entire island and outside world going through the city either via ferry boat or airline. Located only 10 minutes away from Black Rock, the city makes it easy to get virtually anything you need from groceries, hardware and outdoor gear to medical care, restaurant dining, locally brewed beer and authentic seafood. Every summer, Kodiak also offers an array of events and activities, including their annual Crab Festival, golf tournaments, surfing competitions, the local state fair and much more.

RECREATION In addition to the many amenities offered through the local cities, perhaps one of the greatest draws of Kodiak is the Island's renowned recreation. There is no shortage of things to do in the area. Spring and Summer offer great opportunities for whitewater rafting, kayaking, fly fishing, snorkeling, wildlife watching and hiking while Wintertime gives visitors the chance to watch the glorious aurora borealis or northern lights, as well as enjoy Alaska's official sport of dog sled racing, backcountry skiing, Alpine snowboarding, snowmobiling and so much more. Kodiak's raw, beautiful and unrelenting terrain teems with a variety of opportunities for adventures and experiences for any outdoor enthusiast.

HUNTING & Fishing Alaska is arguably one of the best places on Earth for great hunting and fishing. Kodiak, itself, is a renowned fishing destination that offers access to all five species of salmon, along with halibut, rockfish, cod and trout. Halibut is the world's largest flatfish, growing upwards of over 400 lbs., and are abundant in the waters near Kodiak Island. In addition, all five species of Pacific salmon can be fished here. Along with great fishing, Kodiak boasts some of the best hunting in the world. Home to some of North America's largest and most sought-after game animals, the area is a true hunter's paradise.

OVERVIEW From endless outdoor recreation and nearby amenities, to astounding scenery, world class hunting/fishing, countless activities and contemporary living, the Black Rock lots at Cliff Point Estates offer a way of life like nowhere else and is truly a dream destination.