.26 Acres Only $1Dn, $199/Mo
Lake Placid, FL 33852
Highlands County, Florida
Expired Listing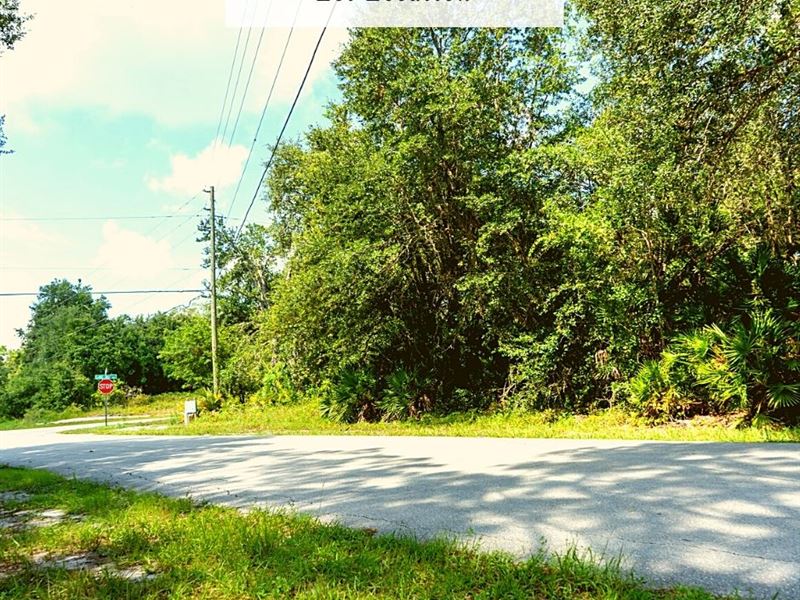 Land Description
"Real estate cannot be lost or stolen, nor can it be carried away. Purchased with common sense, paid for in full, and managed with reasonable care, it is about the safest investment in the world." - Franklin D. Roosevelt, U.S. president

This property is located in south-central Florida at an equal distance from Orlando, Tampa and Palm Beach.

The property is about 5 minutes to Lake June in Winter, 20 minutes to Highlands Hammock State Park and Sebring, 2 hours to Tampa, Orlando and Palm Beach.

The property is accessible via Wildflower St.

The lot is zoned R-1, which allows for single-family homes, but not mobile homes.

"Ninety percent of all millionaires become so through owning real estate. More money has been made in real estate than in all industrial investments combined. The wise young man or wage earner of today invests his money in real estate." - Andrew Carnegie, billionaire industrialist

Cash Discount Price + Document Fee

We accept personal checks, cashier's checks, money orders and Zelle.

Seller Financing down with a document fee and per month for 30 months at 0% Apr. No prepayment penalty. No credit checks.

Hold Price we can hold the property for you for 72 hours while you decide whether you want to purchase. If you buy the property, this will count toward the purchase price.

Title And Use

What you can or cannot legally do on the land is controlled by the local government, not by us or any seller. Please contact the county, providing them with the parcel number, to confirm zoning, access, and available utilities.

About Sebring

According to "Home to a park system that wows with outdoor wonders, Sebring naturally allures visitors. Otters, alligators and deer take shelter in our hardwood forests, pine flatwoods and cypress swamps, giving visitors a glimpse of wildlife along our nature trails. Boat ramps, fishing piers and swim centers provide easy access to our waterways from public parks.

Located in Central Florida, Sebring occupies the southern end of the Lake Wales Ridge, a 100-Mile-Long range of sand hills, scrub and freshwater lakes. Once a group of prehistoric islands, the area is home to dozens of rare species of plants and animals.

Birds, including scrub jays, swallow-tailed kites, bald eagles, osprey and sandhill cranes, all in their native habitat, can be seen and heard.

The area has extensive bikeways, including several routes through the very beautiful and popular Highlands Hammock State Park, as well as routes from 10-100 miles long on other scenic roads. There are hiking, canoe and trails in the State Park and on the grounds of the Southwest Florida Water Management District, the Archbold Biological Station, and the Avon Park Air Force Range - all large conservation management areas covering thousands of acres."

Lot Details

Apn: C-21-36-29-0030

Centerpoint Coordinates (appox.): 27.3333, -81.4311

Gps Boundary Coordinates (appox.):

NE Corner: 27.3335, -81.4309

Se Corner: 27.3332, -81.431

Nw Corner: 27.3335, -81.4313

Sw Corner: 27.3333, -81.4313

Legal Description: Leisure Lakes SEC 3

Pb 6-Pg 25

Lot 3 Blk 163

Address: 1002 Wildflower St, Lake Placid, FL, 33852

Lot Dimensions: 121' x 96'

General Elevation: ~85 Feet

Taxes Are Paid And Current

Annual taxes are Taxes have been paid through 2019 and no back taxes are owed.

"Buy on the fringe and wait. Buy land near a growing city. Buy real estate when other people want to sell. Hold what you buy." - John Jacob Astor, real estate and business mogul

Frequently Asked Questions

Is there water available on site? Water would likely need to be a well or other alternative system.

Is there sewer service or do I need a septic tank? You will likely need to install a septic system or alternative system on site. A perc test has not been done on the lot.

Is there power available? Please call Highlands County for more information.

Can I build a home on the lot? Please call the Highlands County Building Department for more information. You will likely need to build out the road before you can build.

Are there any improvements on the lot? No, the lot is vacant.

What kind of deed will I receive? You will receive a special warranty deed, which means the seller is guaranteeing that the property wasn't encumbered during the time of his/her ownership.

How many people can be included on the deed? You can have as many people listed on the deed as you would like.

Can the deed be made out to an Llc? Yes, the deed can be made out to an LLC or corporation.

Does the property come with mineral rights? We buy all of our properties assuming that we only have the surface rights. In order to determine whether a particular property has mineral rights, you will usually need to hire a title company to run a mineral rights search going all the way back to the original homestead.

"Buying real estate is not only the best way, the quickest way, the safest way, but the only way to become wealthy." - Marshall Field, entrepreneur

Final Note

We completed an extensive due diligence process on this lot, but we recommend you do your own research as well. Take the time to get to know your new property before purchasing - it could remain in your family for generations.

"Buy land, they're not making it anymore." - Mark Twain, writer and humorist

Our mission is to offer high quality properties at reasonable prices, provide maximum transparency and always strive to do the right thing.

If you are interested in land investing, you can check out our article on How to Get Started in Land Investing.