Flattops Sweetwater Ranch
3450 Why Worry Way : Gypsum, CO 81637
Eagle County, Colorado
Expired Listing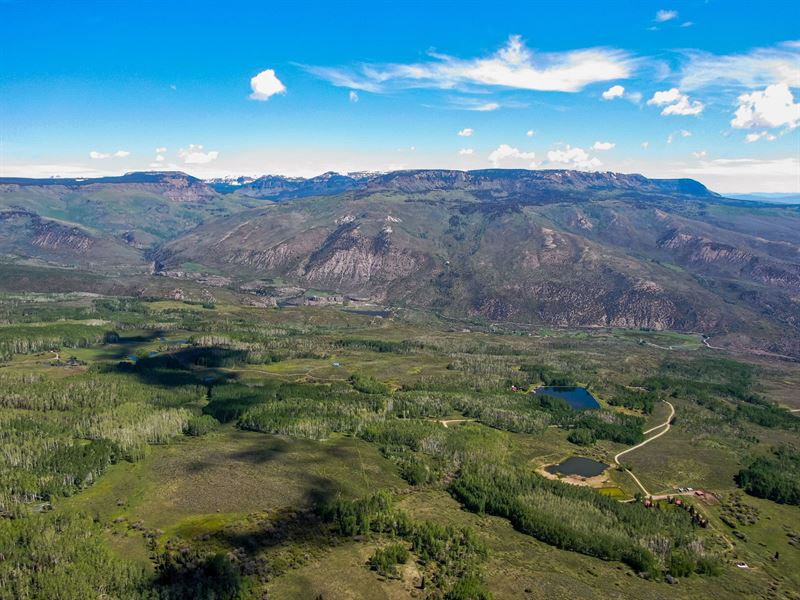 Land Description
The Flattops Sweetwater Ranch is that perfect piece of land that controls access to some of Colorado's most scenic High Country. This parcel is situated perfectly at the headwaters of the Sweetwater River on the National Forest Boundary with the Flat Tops. It controls high country access for 1000S of acres of Usfs while sitting nestled behind a private gated entry with only a few select neighboring properties. The ranch is comprised of approximately 115 acres and is just 1 mile off of good paved roads and within one hour of Vail, Colorado and 35 minutes to I-70 and Eagle Vail Airport.

The land is simply stunning. Rolling meadows with ponds and a mix of aspen, pine and spruce make this simply as good as it gets. Views, Views, Views. The ranch has amazing views to the east of Vail, the Twin Sisters at Longs Peak, and even the Collegiate Peaks.

The Vail Valley and I-70 are easy access on a good paved road and the recreational possibilities are endless. Whether you love to snow ski, float the mighty Colorado River or just find solitude in the back country this ranch offers it all. The Colorado River is located just 15 minutes below the ranch and it offers good public access to a world class river for fishing and rafting. Vail Ski Resort is within 45 minutes to 1 hour.

The land is located in Colorado Game Management Unit 25 for elk and it offers excellent hunting for elk, mule deer, meriam turkeys, predators and an occasional antelope. Because this 115 acres controls most or all of the forest border behind the ranch the property lives really big. The Flat Tops is a vast area of public land holding excellent herds of elk and deer with good quality animals. This ranch is home to good numbers of elk and deer. The very private forest border offers private like hunting with little or no pressure from hunters looking for an easy hike.

The fishing on the ranch is good in the high country behind it and the pond on the ranch has some small browns and brook trout. Just right for that campfire meal of shore lunch.

If privacy and solitude are important this is surely the best I have seen in a smaller ranch. The perfect mix of rugged and refined. The main home on the ranch is 3250 square feet and has 4 bedroom and 3.5 baths built in 2012. This home is very well appointed and in the most gorgeous setting possible. Evenings can be spent looking over the large fire pit at the backside of Colorado's Rocky Mountains. The excellent floor plan provides a great space for entertaining and the granite countertops and upscale roomy kitchen are perfect for entertaining.