Prime Farm in Sweetwater Valley
16365 Blue Springs Rd : Philadelphia, TN 37846
Roane County, Tennessee
Expired Listing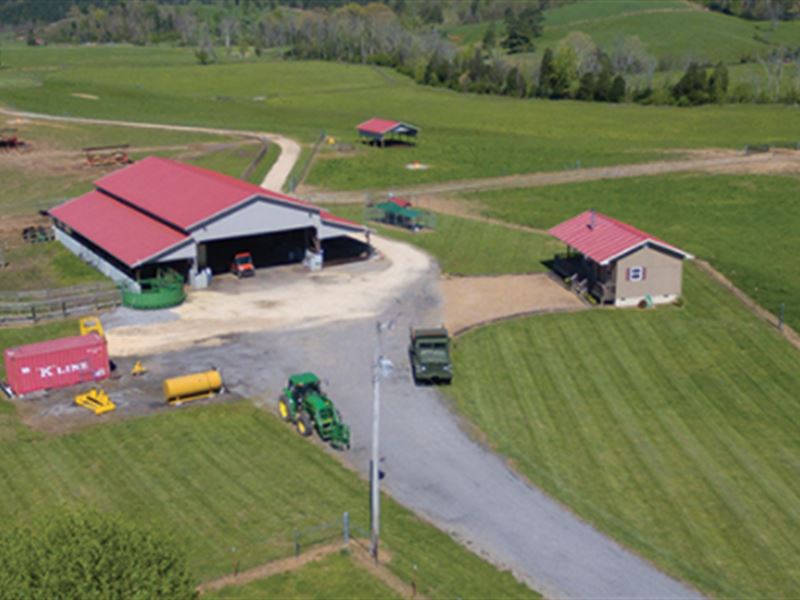 Land Description
There are two year-round creeks that transverse the farm, and most pastures have Ritche Waterers with underground 1" sch. 40 PVC waterline.The property's main barn is 70' x 90' with concrete foundation and 4' masonry walls. All wiring is in conduit and up to commercial code by Spectrum Electric. The west wing side is concrete with a 40-station feed way. The east wing houses the under-roof head gate, scales and the rotating crowd work area. The corral holding area is very convenient to work cattle.

The farm also has a 40' x 100' hay storage barn that can hold approximately 350 - 400 round bales as well as 8 sheds that are 32' x 24' in the pastures for shade. Finally, there is the cabin/office with bunk beds, pot-belly stove, kitchen, bath and covered porch that overlooks much of the farm.

The land had been largely unworked for 30 years. We reclaimed the property and as each area was cleared, the soil was tested and brought the pH up to specs with lime. We planted a mixture of fescue, rye, orchard grass and red clover on the cleared ground for a total of 175+ acres of pasture.

Sweetwater Commercial Fence helped construct over 15,000 feet of perimeter fence. The fence is 52" 12-gauge woven wire with a top strand of barbed wire. All corner post and gate posts are 6 5/8? galvanized steel. Inline pull posts are 4" galvanized with two 2" brace posts. Gates are 2" 14-gauge tubes with 2? x 2? x 3/16? ends and powder coated. The cross fence makes nine major pastures with several smaller sub-pastures, and moving cattle from one to another and all the way to the main barn and working area is a simple process.