Planted Pine Investment Hunting
Connell Tram Rd : Monticello, FL 32344
Jefferson County, Florida
Expired Listing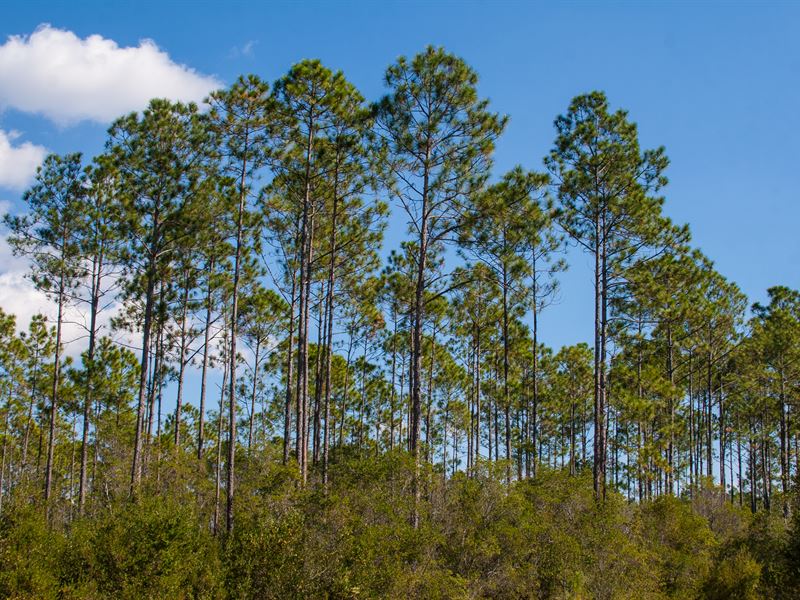 Land Description
The Woodvest Timberlands South tract is a commercial-grade timberland investment with HBU potential. Located just 8 miles from Tallahassee, it is adjacent to the 11,000-Acre Plank Road WMA and State Park, a large lightly-hunted wildlife and recreational buffer. The tract has been established in a fast-growing, genetically improved slash pine plantation using current commercial forestry standards. The property also boasts significant hardwood value, as almost all wetlands on the property are in fully-stocked pine, cypress, bay and oak species.

The land is made up of 172.4 acres of pre-merchantable planted pine, 24.5 acres of mature planted pine, 224.7 acres of timbered wetlands, with the remainder in roads and open areas for hunting. There is a 2-acre pond on the property as well, perfect for fishing and duck hunting. Deer and turkey populations are far above norms and hunting in the area is excellent. The adjacent landowner harvested an 11-point atypical whitetail during the 2017 deer season. Several large-bodied 8-points have also been seen on camera this year. Power is close to the boundary and there are several good home and camp sites on the land. Access is by well-maintained graded county roads, accessed via US Hwy 59. An extensive network of wide firelines has been established around all timber for the purpose of accessing all areas of the tract via 4-wheeler.

This property is a great opportunity to own a fantastic hunting tract with strong future investment potential. Additional acreage, both adjacent and nearby, is available as well. Call for details, and to schedule your tour.