1.07 Acres For Sale in San Jacinto
Cv Timber Lane : Coldspring, TX 77331
San Jacinto County, Texas
Expired Listing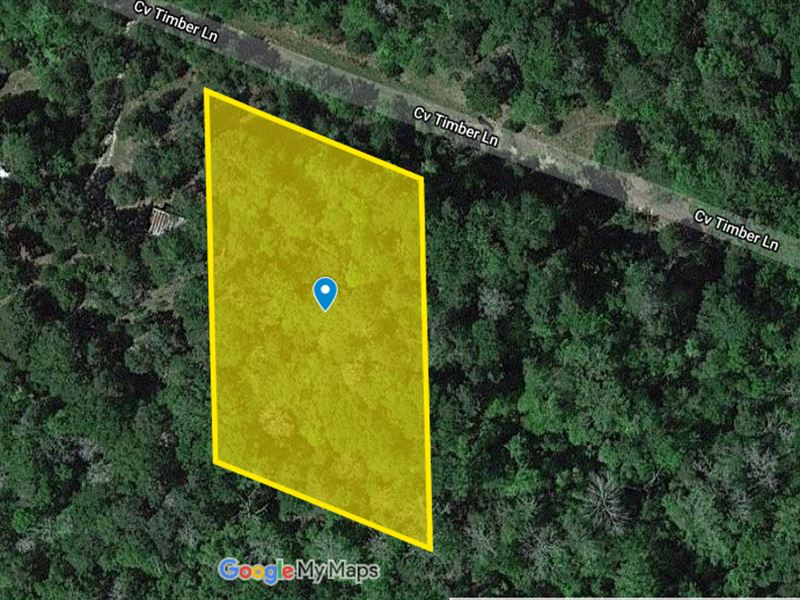 Land Description
Experience quiet country living with this wooded lot in Coldspring, Texas. A few minutes away from beautiful lakes, national forests, and state parks, this 1.07-Acre property is the perfect nature retreat. It feels like a world away as you bask in the cool climate and unpolluted environment while enjoying picturesque views of clear skies and majestic trees. Perfect for residential or recreational use, this can be your private weekend getaway to relax and bond with family and friends.

PRICING Details: + Title Fees

How To See The Land:

Simply click on this interactive map or enter any of this GPS Coordinates in your favorite maps software to find it: 30.598204, -95.041854 Center Coordinates (Approximate)

Property Details:

Size: 1.07 Acres

County: San Jacinto

State: Texas

Apn: 53880

Address: CV Timber Lane, Coldspring, TX 77331

Map: Available upon request

Coordinates: 30.598204, -95.041854

Access: Dirt Road

Terrain: Level

Flood Zone: No

Title Info: Purchased w/ Title Insurance

Power: Handled by Sam Houston Elec.Coop

Water: Handled by Monarch Water, but you need to buy your own meter

Gas: No

Phone/Internet: No

Sewage: Septic can be installed

HOA Fees: Residential

Camping: Yes, Without Permit

Mobile Homes: Yes

Yearly Tax: Information:

The property is nestled in San Jacinto County, a county in the U.S. state of Texas. Its county seat is Coldspring. Fun Fact: The county's name comes from the Battle of San Jacinto which, in 1836, secured Texas' independence from Mexico and established a republic.

As of the census of 2000, there were 22,246 people, 8,651 households, and 6,401 families residing in the county. The population density was 39 people per square mile (15/Km²). There were 11,520 housing units at an average density of 20 per square mile (8/km²).

Of the 8,651 households, 30.00% had children under the age of 18 living with them, 60.20% were married couples living together, 9.70% had a female householder with no husband present, and 26.00% were non-families. 22.60% of all households were made up of individuals and 10.10% had someone living alone who was 65 years of age or older. The average household size was 2.55 and the average family size was 2.98.

The median income for a household in the county was and the median income for a family was Males had a median income of versus for females. The per capita income for the county was To Do:

The property is surrounded by several state parks and lakes. The most popular of them is Lake Livingston State Park. Here, you and your family can enjoy stunning views of Lake Livingston while trying fun outdoor activities. If you're an avid angler, Lake Livingston is noted for white bass population. You can have fun catching catfish, crappie, bass and perch. You can also go for a swim or ride a boat, kayak, or canoe. If you are a nature enthusiast, a quiet hike in the trails through the forest or camping under the trees is a must try. You can even go on a picnic, mountain bike, do a geocache, or study nature.

Are you down for some small game hunting? The property is also near national forests like the Sam Houston National Forest. Trapping and public hunting of white-tailed deer, feral hog, waterfowl, doves, other migratory game birds, squirrels, quail, rabbits, furbearers, and frogs are permitted. Or if you're more into wildlife watching, Sam Houston is home to numerous North American bird species. You can view red-cockaded woodpeckers, bald eagles, and migratory game birds. You can also view and appreciate the many protected animals living in the habitat of this national forest. You'll never know what will cross your path so make sure you have your smartphone or binoculars with you. Other outdoor recreation opportunities include camping, hiking, bicycling, and horseback riding.

If you love history and mystery at the same time, another great place to visit near the property is the Hanging Tree of Coldspring. This historical 300-Year-Old oak tree was once used to dispense justice. Hear Texas tradition and lore of how the tree's large, thick limbs were used to perform public executions by hanging, and how many cowboys and outlaws met their fate here.

Shopping:

They say everything is bigger and better in Texas. And if you got a Texas-size appetite, your property is just half an hour drive to restaurants offering Texas classic dishes like chicken-fried steak, cowboy chili, pecan pie, and lots of barbecues. You can sample these mouth-watering dishes at the LeBlanc's Cajun Kitchen, El Taquito Mexican Restaurant, Hickory Pit BBQ & Burger House, The Paradise Grille, Joe's Italian Grill & Restaurant, Pitt Stop Café, El Taquito, Big Daddy's Restaurant, Pueblo Viejo Mexican Restaurant, Church's Chicken, The 4 Corners Café, Shooters Bbq, The Mason Jar, The Cape Grill, and Happy Days Diner. Or if you're craving for some good old burgers, tacos, and pancakes, fast food like Subway, L&L Drive Thru Burgers, Sonic Drive-in, The Hop, and Taco Express are also nearby.

Can't live without shopping? Not a problem. Your property is surrounded by malls where you can get all your daily needs and grocery items. Enjoy easy access to shopping malls like Walmart, Way Out West Flea Market, Junk In The Trunk, Consignor's Mall, Woodcreek Shopping Center, Montgomery Plaza, Pine Hollow Shopping Center, Waterpoint Shopping Center, Portofino Shopping Center, West Hill Mall, Truly Plaza, The Woodlands Mall, and Piney Woods Business Park.

Nearby Towns From The Property:

Coldspring (7.3 miles), Goodrich (9.0 miles), Shepherd (10.1 miles), Livingston (12.6 miles), Pointblank (22.2 miles), Onalaska (24.4 miles), Moscow (28.4 miles), Dodge (30.4 miles), New Waverly (30.5 miles), Willis (33.2 miles), Plum Grove (32.8 miles), Riverside (37.9 miles), Huntsville (38.8 miles), Trinity (49.2 miles), Groveton (49.4 miles) and Lovelady (57.7 miles).

Point Of Interest:

Lake Livingston State Park (7.8 miles), Sam Houston National Forest (8.2 miles), Wolf Creek Park (13.6 miles), Lake Livingston (25.4 miles), Forest Glen Camps (28 miles), Lake Raven (42.4 miles), Huntsville State Park (42.4 miles), David Crockett National Forest (57.1 miles), and Trinity River (82.4 miles).

Buying Process:

1. Reach out to the Trinity Oaks Land team we will help answer all your questions not addressed here in this ad.

2. Once ready our team will secure your down payment on the property and get the information needed to start the process and paperwork.

3. We will issue you the sales agreement for your signature.

4. Once signed, we will get in touch with a reputable title company since the property is above Trinity Oaks Land has identified a trusted partner title company to facilitate title insurance and escrow services (title cost to be paid by customer at roughly in addition to the purchase price).

5. The title company will be in touch with you for the items they require to be completed on your end. This is the easy part. They will take care of coordinating all the specifics that are required by Trinity Oaks Land and you as the buyer.

6. Once the title company is done with their process, they will transfer title to you.

7. Enjoy your land.

About Us:

What makes us different? We are Trinity Oaks Land, a land company that prides itself on delivering an experience like no other in the land investing space. You are doing business with the owners of the company, two small town men that stand on the principles of small town Usa; not some big corporation based in New York that doesn't care about you and your unique land investing needs.

BUSINESS Accreditation: We are a proud accredited member of the Better Business Bureau and uphold their Code of Business Practices everyday in our business.

This property is only available to the buyer who acts Now. Stop reading and start calling. Why are you still reading this? Call Now. Please message for ANY and All Questions, we will get back with you Asap with answers.

Please Note:

Trinity Oaks Land and it's subsidiary holding companies do lengthy research on all our properties prior to listing them, however all prospective buyers, are encouraged to conduct their own due diligence to verify information provided and contact the county to confirm that whatever plans that buyer has for the property in question are in fact legal, feasible and permitted. Due diligence is the buyer's responsibility and all sales are final.