East Texas Investment Land Equine
17370 Fm 756 : Whitehouse, TX 75791
Smith County, Texas
Expired Listing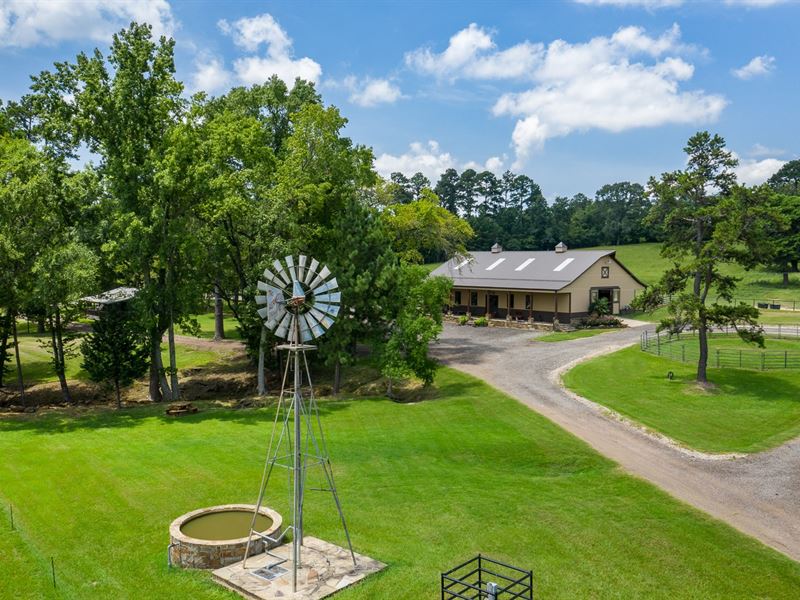 Land Description
East Texas Land and Equine Property For Sale

Iron Rock Ranch is a 103.596 acre Luxury Texas horse ranch located only 5.5 miles south of Tyler Texas in Smith County, and 1.5 miles south of Loop 49 in the Whitehouse Independent School District. The 1300 feet of FM 756 road frontage leads you to a custom electric secrutiy gate. The interior roads winds the way through beautiful rolling pastures with scattered hardwood trees providing a shade canopy for your horses or cattle. This EastTexas ranch for sale has rolling topography with over 70 feet of elevation change in Smith County, creating Texas home sites with amazing Texas ranch views.

Iron Rock Horse Ranch in Tyler Texas

Iron Rock Ranch gets its name from the iron ore boulders that were discovered years ago in the area of this Luxury Texas Ranch when the previous owner mined iron ore from the back of the property, and sold it to the City of Tyler for road bed for Gentry Parkway one of the main thoroughfares in Tyler Texas. Giant boulders were unearthed in the process and are stacked in two locations on the ranch creating a very interesting conversation display. Many photo shoots have been held in and around the giant stones over the years near this great horse property for sale east of Dallas, Texas.

Texas Horse Property has a Custom Built Horse Barn

Texas horse training facility at Iron Rock Ranch. The rock front state-of Cleary custom-built barn with doors opening to south and north for year-round ventilation is 45'x72'. The horse barn features six 12'x14' stalls with outside doors to separate paddocks. The horse barn features equine lighting, and is fully insulated for the horses comfort as well as staff. This fine horse ranch for sale in Texas is equipped with feed, tack, and wash rooms outfitted with an 80-gallon hot water heater, central vacuum system and commercial ice maker. The reception area of your new Luxury Horse training facility is equipped with central air and heat, including the living room area, kitchen and bathroom. The facility is monitored by a security system, giving both owners and users a sense of peace when away. This Luxury facility has a separate hay barn to ensure clean and safe storage of feed and inventory for the horses, outfitted with interior and exterior lighting, convenient for early morning or evening horse training activities.

Texas Luxury Horse Ranch Training Facility Assets

The Iron Rock Horse ranch has a custom built matching Cleary shop building completely insulated, with south and north roll up doors for easy in and out with your training equipment, ranch vehicles and horse trailers. Included is a bath for guests and staff use, your new shop facility has built-in shelves and cabinets with plenty of storage for outdoor gear and your favorite horse training tools or tack. The shop also features a high capacity air compressor, commercial grade lighting and two 30-amp and one 50-amp RV hookups. Monitored security system keeping an eye on all your Texas horse ranching assets 24/7.

What Luxury Texas Horse ranch wouldn't be complete without a newly remodeled 850 square foot two-bedroom one bath cabin for weekend guests or staff use while engaging in horse training or ranching activities.

Texas horse ranch for sale Pastures, Fishing Lakes, Hardwoods And Pine Timber

You and your guests will Enter the 103.7 acres through an outstanding rock entrance with custom automatic gate. The ranch has lush landscaping, outdoor lighting, power plugs and elaborate sprinkler system, for the irrigation of the property. The Texas ranch land for sale is comprised of 60 hardwood and pine timber and 40 Coastal, Bahia and Ryegrass pastures for livestock grazing. There is 5500 linear feet of custom pipe and cable fencing finished in black marine grade paint, together with four separate pastures for rotating of the horses and cattle on this fine luxury ranch. Iron Rock Ranch for sale east of Dallas Texas is entirely perimeter fenced. This Texas horse ranch has two spring-fed stock lakes for fishing and recreation. Livestock and wildlife benefit from all the water resources as well this fine ranch offers. Your new Texas Horse ranch has hardwood timber and pine forest. Running through the ranch are trails cut throughout for horseback riding, Atving and general Texas ranch fun. The wildlife habitat on your new Texas Horse property for sale is fabulous with an abundance of Whitetail Deer and other small varmints that inhabit the woods of Tyler Texas. The main potable water source is Walnut Grove Coop. For irrigation, drinking and supplemental water source for filling the fishing lake on your own private horse ranch is a 300 feet deep Wilcox water well offering an abundant endless supply of water. There is a fully operational Chicago Aermotor Windmill next to the deep well that supplies water to rock tank that flows into fishing lake on this Texas ranch for sale.

Texas hunting ranch and fishing land

Hunt Whitetail Deer, Hogs, Squirrels and other small varmints is a fun time on your private luxury Texas ranch property. Two fishing lakes, horse and ATV trails throughout the timberland make getting to the fishing hole and hunting grounds a breeze on Iron Rock Ranch for sale East of Dallas Texas.

Tyler Texas Ranching Development Opportunity

Iron Rock Ranch has hosted weddings, photoshoots, private parties and corporate events. The ranch is stunning in all seasons of the year. This Texas ranch for sale offers future development opportunities. The new owner can build themselves that custom western Luxury country home, or additional equine training assets, or even lay out a development plan for the property that lends itself to a Luxury Horse development adding a few more country or luxury homes. All property owners would benefit from the use and enjoyment of the common ownership Luxury Horse features and equine training and horse boarding facility already existing on the property. The income potential is limitless for this property, the Texas horse ranch can become one of the premier Horse ranching and equine development properties for sale in the region with close proximity to Dallas Texas.

Texas Ranch Broker and Land Specialist

Carroll earned his real estate Brokers License in 1986, beginning his long career in Texas real estate. Carroll is an avid outdoorsman, enjoying a lifetime of hunting, fishing and most importantly clay target shooting. Carroll's personal goals have always been to incorporate his love of the outdoors with his Texas real estate business endeavors. In 1999 the opportunity to join United Country Real Estate came along. Moving back to East Texas, the Ranch Land where he spent his growing up years, to sell hunting properties, horse ranches, cattle ranches and country homes was a dream come true.