Private Property, Owner Financing
Lot 9 Langlais Drive : North Port, FL 34288
Sarasota County, Florida
Expired Listing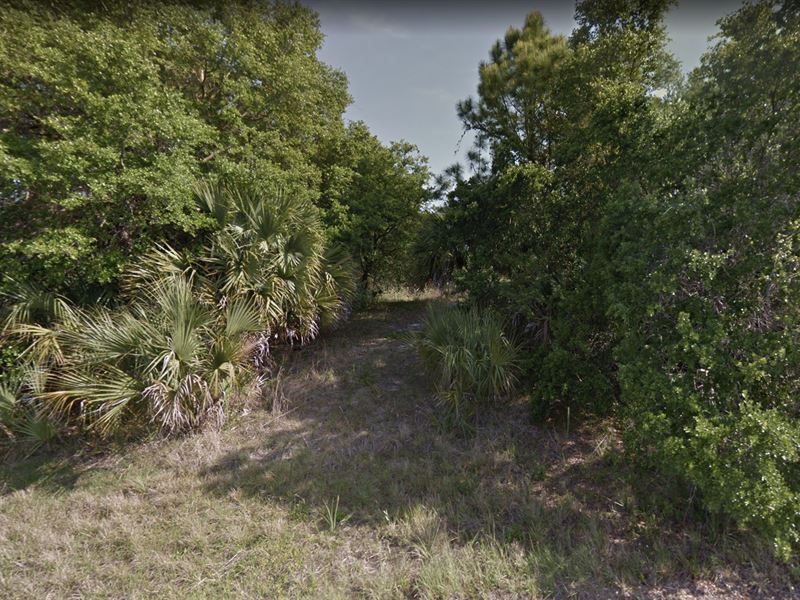 Land Description
For more information, photos, interactive map, etc for this property, or to reserve it today, please visit our website.

Owner Financing with No Credit Check and a low Down Payment.

There are several notable things about this property:

1) There is a "driveway" that heads into the property towards a secluded, cleared area. Pull your car, truck, van or perhaps camper inside and you will likely be invisible from the road.

2) Behind the lot is a trail/road currently used for fourwheelers. This lot is an Atv'ers dream.

3) The lot also backs up to the Snover Waterway, a 10 mile waterway that connects to the Cocoplum and Newman Waterways. Access is currently overgrown so it is difficult to see it in it's current state. When the area gets developed, and the overgrowth cut back, it will be Beautiful.

4) On the other side of the waterway is the 5774 acre Orange Hammock Ranch, which Sarasota County and the Conservation Association are working on buying to create a permanent nature preserve.

5) This property was priced at however it has been brought to my attention that there is some trash on the property which needs to be picked up. I have been told it is several garbage bags worth. So, instead of paying someone to go out there and clean it up, I have dropped the price so you can either pay someone to take care of it or do it yourself and save The lot is oversized. Typical lot sizes in the area are.23 acres. This one is.29 acres.

Utilities have not been brought to this area yet, so, for now, it is a great place to go, pitch a tent and enjoy nature. You can also build an "off grid" site built home or place an "off grid" modular home on the property (no mobile homes) As North Port and the surrounding areas continue their current explosion of growth, this area is poised for development.

Cash Price: Financing for All.

per month for 4 years

Document Fee

Lot 9 Langlais Drive North Port, Florida 34288

Parcel Number: 1125-23-1002

Lot Size:.29 Acres

Zoning: Rsf2 - Residential Single Family

Latitude 27.0752182 Longitude -82.0835037

Annual Property Taxes: Would be by well

Sewer: Would be by septic

Power: No

Road: Paved Road

Conveyance: General Warranty Deed

Any questions of what you can or cannot build, can or cannot do on the property should be directed to the county Planning and Zoning Department.

Everything we know about the property is listed here.

is family owned and operated. We are proud to have an A+ Rating with the Better Business Bureau.

For more information, photos, interactive map, etc for this property, or to reserve it today, please visit our website.