.28 Acres For Sale In Bella Vista
Paxton Lane : Bella Vista, AR 72714
Benton County, Arkansas
Expired Listing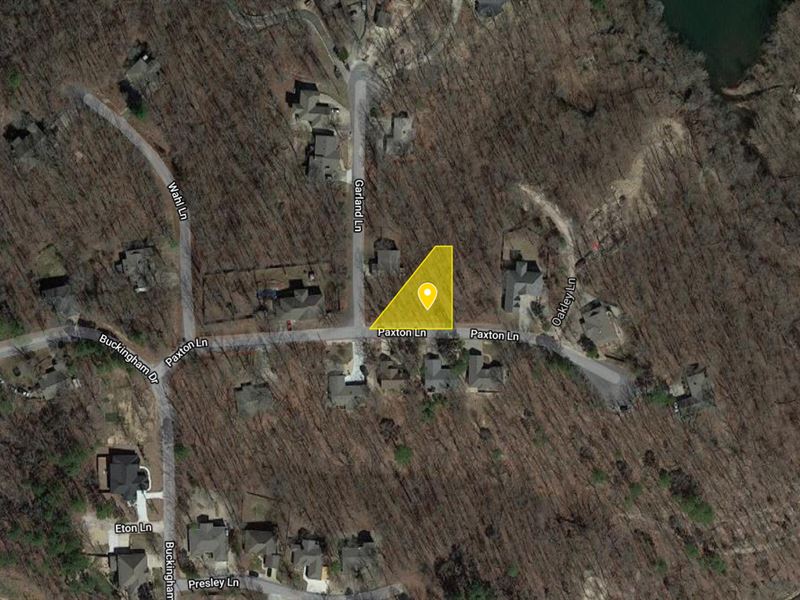 Land Description
0.28 Acre Lot With Stunning Views Of Lake Ann. What A Place To Live And Enjoy Life.

Description:

Is city life stressing you out? Want a place where you can destress and have a short retreat with nature? Owning land in Benton County, Arkansas is the answer. This 0.28-Acre property is tucked in a quiet community backdropped with lush greenery. It offers a quiet respite from the daily grind of city life. You and your family can relax with nature and at the same time enjoy an endless array of exciting outdoor activities.

Cash Price Details:

•Cash Price: + Doc Fee

Financing Price Options:

•Financing Price: + Doc Fee

How To See The Land:

Simply click on this interactive map or enter any of this GPS Coordinates in your favorite maps software to find it: 36.469957, -94.221866 Center Coordinates (Approximate)

Property Details:

Size: 0.28 Acre

County: Benton

State: Arkansas

Apn: 16-05863-000 (if the apn doesn't fully show, please scroll to bottom of listing or please contact us for the full apn)

Address: Paxton Ln Bella Vista, Arkansas, 72714

Coordinates: 36.469957, -94.221866

Access: Paved Road

Terrain: Flat

Legal Description: Lot 15, Block 5, Buckingham Subdivision, Bella Vista Village, Benton County, Arkansas, as shown in Plat Book I at 121

Power: No but can be serviced by Caroll Electric

Water: Is water already on the property - well or city

Gas: No gas. Most people use propane

Sewage: Sewer

HOA Fees: No

Mobile Homes: No

Yearly Tax: Treasurer:

County Information:

The property is nestled in Benton County, a county located in the U.S. state of Arkansas. The county seat is Bentonville. Fun fact: The county was named after Thomas Hart Benton, a U.S. Senator from Missouri.

As of the 2000 United States Census, there were 153,406 people, 58,212 households, and 43,484 families residing in the county. The population density was 181 people per square mile (70/Km²). There were 64,281 housing units at an average density of 76 per square mile (29/Km²).

Of the 58,212 households, 34.40% had children under the age of 18 living with them, 63.00% were married couples living together, 8.20% had a female householder with no husband present, and 25.30% were non-families. 21.10% of all households were made up of individuals and 8.50% had someone living alone who was 65 years of age or older. The average household size was 2.60 and the average family size was 3.01.

The median income for a household in the county was and the median income for a family was Males had a median income of versus for females. The per capita income for the county was To Do:

The property which lies to the east of Bella Vista is surrounded by 7 man made lakes, making it an angler's paradise. You and your family can enjoy boat or shoreline fishing and catch yourself a largemouth bass, bluegill, redear sunfish, crappie, trout, and catfish. Other fun water activities to experience are speed boating, skiing, tubing, and kayaking. You can even stroll along the banks in a pontoon at nighttime and enjoy the cool breeze and clear skies.

Aside from lakes, the property is flanked by indoor and outdoor swimming pools. There are adult pools, family pools, and small wading pools where you can enjoy a refreshing dip, tube slides, or aquatic exercises.

If you are a nature lover, the property is close to several state parks like the Hobbs State Park Conservation Area. Here, you can enjoy various outdoor activities including RV modern camping, primitive tent camping, hiking, mountain biking, horseback riding, and small game hunting.

Into arts and history? The property is minutes away from world-class museums. You can visit Crystal Bridges Museum of American Art and be amazed at its stunning architecture and collection of both contemporary and realistic art, paintings, and sculptures. For the kids and kids-at-heart, there's Scott Family Amazeum, where everything is hands-on and designed to be touched, climbed on, and interacted with. Their exhibits are designed to engage the imagination and to bring art and science to life. Or if you are interested to know how Sam Walton made Walmart the most famous retail shop in America, you can head to the Walmart Museum for its glorious history.

Is golf more of your thing? Then Bella Vista is your golfing mecca. Boasting of five 18-hole golf courses and two 9-hole golf course that can be played year around, it provides a golf experience that is both challenging and fun, no matter your skill.

Shopping:

Can't live without malls? The property is surrounded by it. You can shop for your daily necessities, watch movies, visit boutiques or simply hang out at the Sugar Creek Shopping Center, Midtown Shopping Center Bentonville, Westpark Plaza, Park Plaza, the Shoppes at Uptown Village, Cash Village Shopping Center, White Hawk Center 2, Southgate, Frisco Station Mall, Pinnacle Hills Promenade, New Town Square Mall, and Cypress Mall.

When you want to grab a bite to eat, the property is also near different restaurants, bars, and eateries. You can enjoy delicious bar food and comfort style meals at Papa Mike's, The Main Bite, Gusano's Chicago-Style Pizerria, Las Fajita's, Top China, JJ's, Rosita's Mexican Restaurant, BV Bar & Grill, El Pueblito, Jim's Razorback Pizza, Petit Bistro, Lakepoint's Event Restaurant & Event Center, and It'll Do Bbq. Craving for your favorite fast food? Don't worry, as McDonalds, Pizza Hut, Domino's Pizza, Subway, Dairy Queen Grill & Chill, and Sonic Drive-In are also within the vicinity.

Points Of Interest:

Lake Rayburn (1.3 miles), Lake Norwood (2.6 miles), Bella Vista Country Golf Course and Clubhouse (2.8 miles), Tanyard Creek Nature Trail (3.1 miles), Lake Avalon (4.1 miles), Lake Windsor (4.4 miles), Lake Ann (5.2 miles), Lake Brittany (5.4 miles), Loch Lomond (8.5 miles), The Walmart Museum (9.2 miles), Scott Family Amazeum (9.3 miles), Crystal Bridges Museum of American Art (9.7 miles), Pea Ridge National Military Park (15.0 miles), Wild Wilderness Drive-Through Safari (28.2 miles), and Hobbs State Park Conservation Area (29.6 miles).

Nearby Towns From The Property:

Bella Vista (3.7 miles), Bentonville, (9.2 miles), Little Flock (12.3 miles), Centerton (12.6 miles), Pea Ridge (13.3 miles), Gravette (16.1 miles), Rogers (16.1 miles), Cave Springs (17.2 miles), Lowell (20.2 miles), Sulphur Springs (21.0 miles), Decatur (22.7 miles), Bethel Heights (23.0 miles), Elm Springs (26.0 miles), Springdale (27.2 miles), Gentry (28.5 miles), and Siloam Springs (36.5 miles).

ABOUT US: We are Drehle-Ewan Bros. Land, LLC a land company that is based in Colorado. We pride ourselves on delivering an experience like no other. Unlike other land companies, we stand out by sharing as much information with you, that way you can reach out to our company when you are ready with specific questions and or move forward on the property of your dreams. When you choose our business, you are dealing with the owners of the company, two farm boys that stand on the principles of small town Usa; not some big corporation based in New York that doesn't care about you and your unique land investing needs. When you do business with us, you can count on us giving you our 1000% to you every single time, so what are you waiting for?

BUSINESS Accreditation: We are a proud accredited member of the Better Business Bureau and uphold their Code of Business Practices every day in our business.

This property is only available to the buyer who acts Now. Stop reading and start calling. Why are you still reading this? Call Now. Please message for ANY and All Questions, we will get back with you Asap with answers.