Winery Vineyard Near Ithaca, NY
5102 Ny State Rte 89 : Finger Lakes, NY 14541
Seneca County, New York
Expired Listing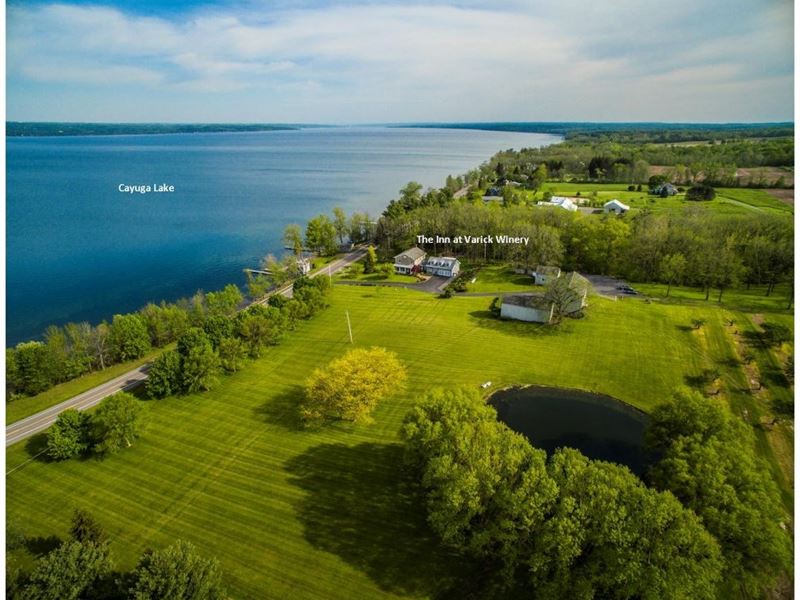 Land Description
New York State Winery & Vineyard For Sale-Cayuga Lake

This historic farm and country property, with an 1833 circa Cobblestone home, 144 acres, 15 acre vineyard, 5.5 acre cherry orchard, winery & tasting room, lake views and 1,860 feet of lakefront is unparalleled in its location and beauty. This county estate could be developed in multiple ways a lake-view and lake access housing development, a recreational resort or with its sweeping lawns, lake views and beautifully restored Cobblestone home allows for development into an event destination, imagine holding your wedding at this beautiful and memorable historic farm.

Located on the west side of Cayuga Lake, this property is in the heart of the world renowned grape growing and wine making region of New York State, home to some of the purest freshwater and largest lakes in the United States. Cayuga Lake is 35 miles long, 3.5 miles wide and 450 feet deep and was carved out during the Ice Age millions of years ago. The farm has been in continuous agriculture for 120 years and is the home to the former Souhan Orchards. The Ovid and Cazenovia silt loam soils deposited by glacial till, the slope to the lake for air drainage and the micro-climate created by the depth and relative narrow width of the lake are attributes, unmatched the world over, that make this property world class in its grape growing capabilities, rarely do you find 144 acres in one tract sloping to the lake. The soils can grow the more fragile Viniferous varieties that are grown in Europe. The grape varieties grown on this farm are Viniferous Riesling, Cabernet Franc & Lemberger French hybrid Vignoles American grape variety Catawba, Table wine varieties Reliance, Lakemont, Vanessa.

There are an additional 90+ tillable acres that can be cultivated to expand the vineyard and orchard the owners are planting a 400 peach tree orchard this spring. The property is on the Cayuga Lake Wine Trail and on the designated America's Scenic Byway, New State Route 89. The winery and is also part of the Blue Trail, you can spend the day boating then dock your boat and walk to the tasting room. Varick Winery & Vineyard is one of a handful of vineyards that have access to the lake.

The property has an attractive and spacious tasting room built in 2004, a new mixing and storage barn, a 1920'S German Forebay barn, two other out buildings and three docks on 1,860 feet of lake front. There is a boat house and small lakeshore cottage as well.

The Cobblestone home was built in 1833 and has been meticulously renovated to its period charm yet has all the amenities, with a modern kitchen, formal living room, formal entry, four bedrooms, four and one half baths, office/den, beautiful decking and a porch that overlooks the cherry orchard and Cayuga Lake. The home has opened as The Inn at Varick Winery in the spring of 2016, With sweeping manicured lawns, historic home, vineyard, cherry orchard and lake views this property could be developed into a destination venue, recreational business, an agricultural enterprise or simply enjoyed as a private country estate or family compound. With the burgeoning growth of craft hard cider, beer and spirits, these beverages can easily be added to the offering.

Varick Winery & Vineyard and the Inn at Varick Winery, being offered to the public, is an once-in-a-lifetime opportunity, there is not another property like it anywhere in the whole world over.

Key Features

In the heart of the Wine Region of New York State.

New York State named 2014 Wine Region Of The Year, by Wine Enthusiast Magazine

144 acres, nearly all tillable, 15 acres of vines, 5.5 acres of cherries.

Farm grows Viniferous varieties of grapes, the region especially known for its Riesling.

1,860 feet of lakefrontage on the western shores of Cayuga Lake.

Meticulously renovated 1833 Cobblestone home, keeping the period charm but with all of the modern amenities.

Sweeping lawns and lake views creates a memorable place as an event destination imagine having your wedding on this beautiful and historic farm.

With the burgeoning popularity of craft hard cider, beer and spirits, these could easily be added to the offering.

Varick Winery & Vineyard is on America's Scenic Byway, New York State Route 89

Winery is a member of the Cayuga Lake Wine Trail.

Winery is also on the Blue Trail, go boating on the lake and then dock and walk to the tasting room.

Grape varieties grown on this farm are Riesling, Cabernet Franc, Lemberger, Vignoles, Catawba, Reliance, Lakemont, and Vanessa.

Once-in-a-lifetime offering, no other property like in the whole world over.