153 Ac New Mexico Wilderness Ranch
Fence Lake, NM 87315
Catron County, New Mexico
Expired Listing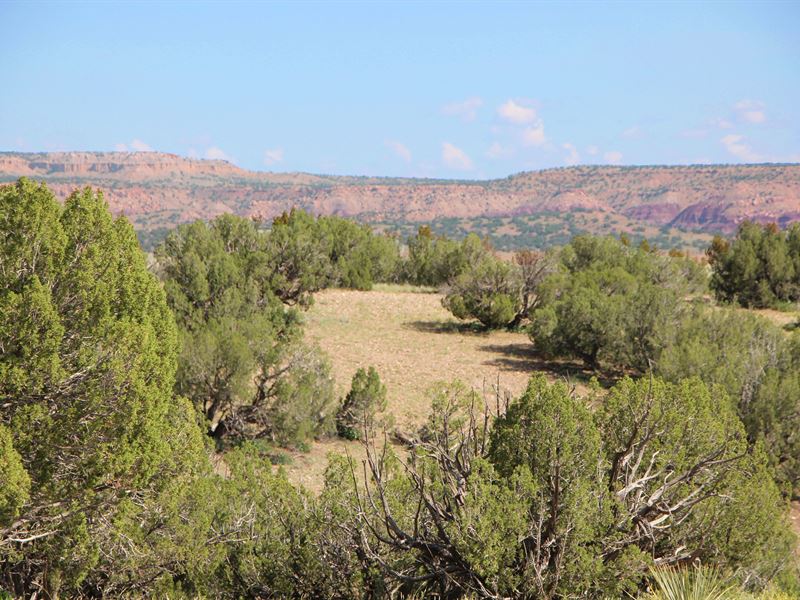 Land Description
This scenic 153 acre ranch estate is set amid the lush juniper/pinon pine woodlands, grassy meadows, rain fed arroyos, and towering mesas of the western New Mexico highlands. The land is located 20 minutes east of the farming and ranching community of St. Johns, Arizona. St Johns, the county seat of Apache County, is a charming small pioneer town which offers a fine compliment of shopping and service related businesses. Schools, churches, restaurants, grocery and hardware stores are within twenty minutes of the land. Access to the property is via its frontage on the Salt Lake road, a county maintained, hard surface gravel road.

The acreage includes dense stands of evergreens blended with open meadows carpeted with rich native range grasses. The topography throughout the land is gentle with healthy stands of rocky mountain junipers accenting the entire holding. A selection of high set wooded hill tops, provide long range views of the surrounding red rock cliffs and wilderness mountains and valleys.. At this cool clear 6,100' elevation, the soils and range grasses provide excellent grazing conditions. Native grasses within this secluded valley include blue and black grama, galleta, muhlys and needle grass. Primary brouse consists of chamiso, winterfat, fourwing saltbush and cliffrose along the edges of the arroyos.

These grasses and mountain wildflowers that cover the meadowland portions of the land are growing in a soft sandy loam soil, which is an ideal base for a wide variety of vegetable and fruit trees. Area organic growers produce abundant yields of corn, wheat, tomatoes, peppers, potatoes, beans, peaches, pears, apples and a host of other garden vegetables and fruit trees.

This part of western New Mexico is highly sought after by hunters and fishermen for its abundance of free roaming herds of elk, deer and antelope as well as the many area Arizona national forest lakes that teem with rainbow trout and other sport species. The winters are mild averaging less than 19 inches of winter snow. Annual rainfall averages 10 inches. The summers here are warm and sunny and punctuated by the refreshing monsoon rains that fall throughout the months of July and August. The average summer monthly daytime temperatures range between 80 and 90 degrees with nighttime temperatures ranging from the mid 50's to the mid 60's. Winter days are rarely overcast. Area land owners work outdoors under sunny cloudless blue skies most winter days. The average winter daytime highs range between 45 & 55 degrees with nighttime lows between the low 20's and mid 30's.

The Coconino De-Chelly aquifer underlies this land. The property includes an outstanding artesian well producing approximately 20 gallons per minute without a pump at approximately 40 pounds of pressure. Seller will provide current water test prior to close of escrow. The property also includes a generous concrete foundation for a garage or shop.

The property's recreational, residential and agricultural zoning allows for a wide range of uses with the exception of commercial or industrial. There are no deed restrictions and no Property Owner's Association. Home construction, camping and RV use is at the leisure of the owner. The property can be perimeter fenced to keep off open grazing herds that browse on the ranch's nutrient rich grasses. When paid in full, the land can be partitioned for investment or estate planning purposes. New Mexico state laws and regulations govern the re-subdivision of land. Owners are advised to understand these regulations. Just listed at with owner provided, no qualifying financing after down. 15 year loan term - per month. There is no prepayment penalty for the early payoff of the loan.