The Ranch at Squaw Valley
County Road 302 : Glen Rose, TX 76043
Somervell County, Texas
Expired Listing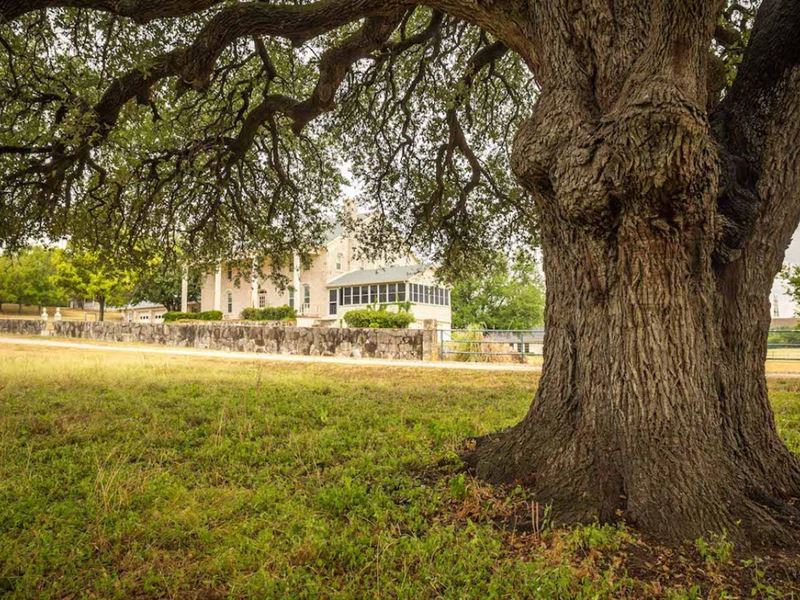 Land Description
This diverse multi-use property provides scenic rolling terrain, big views, superb wildlife habitat, heavy timber cover, productive pastures, quiet country road seclusion, and a true piece of Texas history in its unique two-story home. The setting is ideal and proximity to Dallas/Fort Worth doesn't get much better. Come enjoy the great outdoors, relax with family and friends, and take in all that this Somervell County ranch has to offer.

Area History & Attractions Somervell County is found in the Western Cross Timbers portion of the Oak Woods & Prairies Sub-Region of Texas. The first reported Anglo settlers in the area were the Barnard brothers who established an Indian trading post in 1840. Several American Indian tribal groups inhabited these lands, including the Tonkawas, Caddos, Apaches and Comanches, with Tonkawas said to have been the largest in this area. Around 1860 Barnard's Mill was constructed and is believed to have been the first building constructed at what is present day Glen Rose. The name Glen Rose was formally adopted in 1872 and post office later established around 1874. Glen Rose was the county seat of newly formed Somervell County in 1875, as residents of southern Hood and northern Bosque counties desired to have closer access to markets and county government, but it wasn't until the early 1900'S that the find of dinosaur tracks in the Paluxy River and its tribuatories would put the Dinosaur Capital of Texas firmly on the map. Today, Somervell County boasts a thriving economy due to a strong tax base and employment generated by Comanche Peak Nuclear Power Plant, local businesses, tourism, and the desirable Glen Rose Independent School District. Attractions include historic downtown Glen Rose, dining, shopping, Squaw Valley Golf Course, home to the area's two acclaimed 18-hole championship golf courses, the Comanche Lakes Course ranked 1 and the Apache Links Course ranked 4 municipal courses in Texas by the Dallas Morning News, Fossil Rim Wildlife Center, Dinosaur Valley State Park, and Rough Creek Lodge & Resort just to name a few.

Location The Ranch at Squaw Valley is located 5+/- miles north of downtown Glen Rose, Texas, on Somervell County Road No. 302, approximately 55 miles southwest of Fort Worth and 75 miles southwest of Dallas.

Directions From the intersection of Us-67 and Tx-144 just northeast of Glen Rose, head north on Tx-144 toward Granbury for approximately 1 mile to CR 302 on the left. Follow CR 302 to the north for approximately 1.8 miles to the gated ranch entrance on left.

Main House Step back in time as you enter the historic ranch home. Believed to have originally been constructed around 1882, this two-story plantation style home offers 4,632 SF of living space, 4 bedrooms, 2.5 bathrooms, 3 car garage, large porches, and a basement/storm shelter that could easily be converted into a wine cellar. The home retains a charm and character that spans almost 140 years with thick hand-hewn stone walls and fire places on each end of the main structure. There have been some additions and updates over the years with the most recent believed to have taken place in the late 70's early 80's.

Note Square footages were obtained from Somervell Cad.

Additional Structural Improvements Located nearby and part of the ranch headquarters are a 896 SF 1 bedroom, 1 bathroom caretaker's home, a 2,156 SF barn/bunkhouse, well house, small barn, and heavy duty set of pipe working pens.

Terrain Over 200' of significant elevation change occurs across the ranch marked by plateaus, ridges, and points on the west/southwest and central portions of the property that transition to heavily wooded ravines and valleys. Through the bottom of these draws run seasonal creeks that traverse the property from southwest to northeast forming wet weather tributaries of Squaw Creek to the east. The eastern portion of the property doesn't front on Squaw Creek, but does benefit from its proximity, containing the fertile soils found in the bottom lands of this drainage basin. Three separate fields of 30, 20, and 5 acres in size are established in coastal bermuda pasture with the remaining balance in native grasses. Approximately 75 of the ranch is heavily wooded, with live oak, post oak, spanish oak, pecan, hackberry, cedar, mesquite, sumac, elbowbrush, bumelia, skunkbush, agarita, greenbriar, and other various forms of native brush.

Water A water well at the headquarters provides water to the improvements and is also piped to a couple water troughs for livestock. One stock pond and multiple wet weather branches offer surface water for livestock, wildlife, and recreation. The topography of the ranch naturally creates two potential lake sites for constructing larger bodies of surface water if desired.

Wildlife & Hunting This sanctuary provides prime habitat for the deer, turkey, hog, dove, and varmint that call it home, and numerous locations for establishing food plots, feeding stations, potential blind locations overlooking valleys and draws, and plenty of healthy oaks just waiting for your bow-stand. Take advantage of this opportunity to implement your own management practices and enjoy the abundant wildlife. The ranch has only been lightly hunted in recent years.

Fences & Roads Fences range in condition from excellent to poor and appear to turn livestock. The east boundary will be inset approximately 10' from the old existing fence and new fence constructed as a condition of sale at the Seller's expense. The ranch fronts along paved CR 302 for approximately 400', has a good all-weather gravel road leading into and around the headquarters, and offers numerous pasture roads and trails for travel through the property.

O&G Production and Minerals Currently there is one gas well on the ranch that is believed to be shut-in. Operator access is restricted to a short fenced easement off of CR 313 to the south and does not provide additional access through the property. No minerals are being offered with the sale.

Right-Of-Ways An overhead electric transmission line and natural gas pipeline easement cross the property.

Utilities Texas New Mexico Power Company provides electrical service to the ranch.

School District Glen Rose Independent School District

Taxes The Ranch at Squaw Valley is Ag Exempt and the annual property taxes are estimated to be approximately for 2018.

Contacts Bret Polk, mobile

, mobile

Broker & Commission Disclosure Buyer's Agent/ Broker must be identified upon first contact with Listing Broker/ Listing Agent and Buyer's Agent/ Broker must be present at the initial property tour in order to participate in the real estate commission. Commission splits will be at the sole discretion of , Llc.